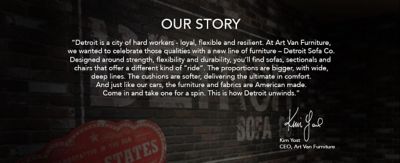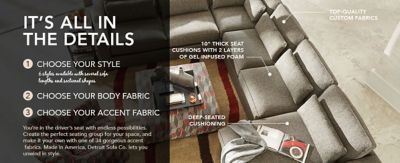 BROWSE BY COLLECTION
LAFAYETTE
Named after a Revolutionary war hero, Lafayette Street is home to Detroit's urban renewal district and an incubator of progressive architecture. The collection follows suit, featuring the perfect marriage of casual and modern, old and new.
SHOP COLLECTION ▸
DAVISON
The Davison Collection was named after the America's first urban freeway, fittingly located in Motor City. As relaxing as a Sunday drive, its comfortable lines deliver a luxurious and scenic experience.
SHOP COLLECTION ▸
JEFFERSON
Jefferson Avenue offers some of Detroit's most scenic views of the river, and the Jefferson Collection is equally as breathtaking. Curved lines and sophisticated tailoring create the perfect place to take in the view.
SHOP COLLECTION ▸
AMBASSADOR
The Ambassador Collection is designed to provide the ultimate in relaxation, featuring soft fabric, lumbar supporting pillows and 10-inch thick cushions.
SHOP COLLECTION ▸
CHENE PARK
Located on the river in the heart of downtown Detroit, Chene Park is the epicenter of entertainment in the summer.
SHOP COLLECTION ▸