Give Your Dining Room a Thanksgiving Magnolia Makeover
The kitchen and dining room get a lot of attention during Thanksgiving, and you can make yours shine by giving it a Magnolia Makeover. While Joanna Gaines is known for her farmhouse style, her Magnolia Home collection features traditional, industrial, modern and French-inspired looks as well. Here are three dining sets that would up the style level of your Thanksgiving Dinner.

Joanna's Neoclassic Windsor Oval Leaf Table is a versatile piece that works with one or both leaves up or down. Its grooved shiplap top is hand distressed in Jo's white finish for a casual vintage look. Pair it with a primitive farmhouse chair for a casual look or choose a colorful Parsons for something more modern.
If you love a more traditional style, choose the English Country Oval Table and Emory Side Chairs, which were inspired by original antique furnishings to offer a sense of history. Joanna designed these pieces to include classical ornament and details, such as decorative molding on the apron and a leaf medallion on the base. The combination is a polished and timeless look.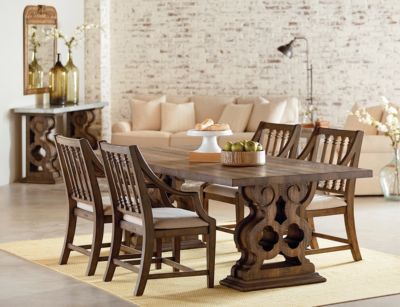 Add an architectural feel to your dining space with the Double Pedestal Dining Table from Magnolia Home. Joanna was inspired by massive corbel brackets from grand old buildings, often recycled as today's architectural antiques. The tabletop has a rugged shop floor finish, while Revival Arm Chairs add elegance and grace.



Art Van Magnolia Makeover:
Joanna's Favorite
Joanna Gaines was recently asked what her favorite project was, and her answer was surprising. Instead of choosing one of her signature farmhouse looks, Joanna chose the mid-century modern home from years ago as one of her all-time favorites. Joanna explained that she enjoyed challenging herself to try a new design style, and the project was different than anything she'd done before. If you like the mid-century modern style, create your own Magnolia Makeover with these easy pieces:


SHOP THIS LOOK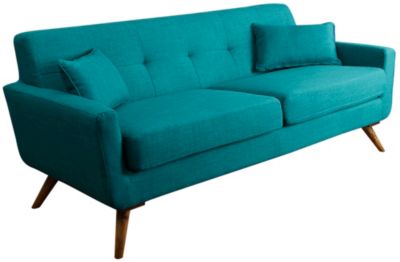 Start with a statement sofa in bold blue. Our Bradley Blue Tufted Sofa has midcentury modern lines and bright upholstery, bringing a big pop of color and personality in your room. Matching toss pillows keep things sleek and streamlined, which is the hallmark of midcentury modern design.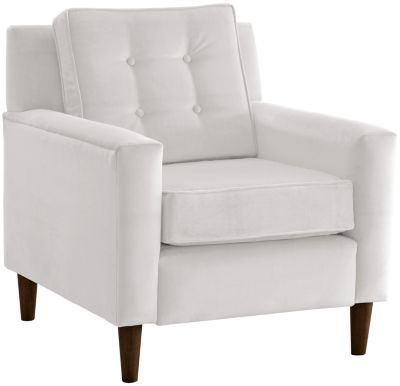 Next add two simple white chairs. Our Flynn Velvet White Chairs add a touch of luxury to the space. Their simple midcentury modern lines match the sofa, and the bright white upholstery keeps things feeling light and open.
Next, Joanna introduces a cocktail table with an urban feel. The Pier Beam Cocktail Table from Magnolia Home is a great choice. The distressed finish offers a nice contrast to the sleek sofa and chairs, while the metal base offers an industrial element.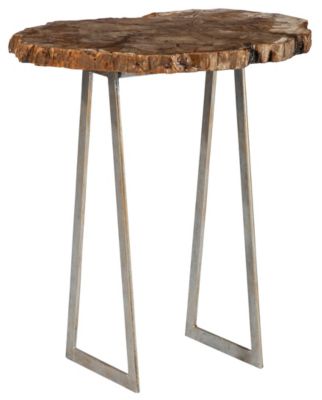 Continuing to add warmth to the room is a wooden end table with a living edge. Our Petrified Wood Table is a great choice. The metal base feels modern, while the wooden top is unique and surprising.
Finally, anchor the room with a rug. Joanna chose a light colored shag rug with a geometric design. Our Fuse Rug would add the same sense of color and energy, and the wool finish is timeless.



Art Van Magnolia Makeover:
4 Items Joanna Uses in the Entryway
Joanna Gaines's Magnolia Home style won the hearts of homeowners across the country with many of us clamoring to create our own style. We love Joanna and noticedt that she often uses four things in the entryway to make it welcoming as well as practical.


SHOP THIS LOOK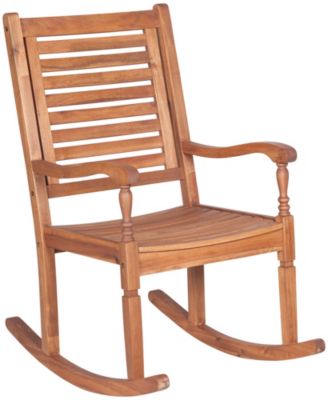 Rocking Chairs:

Many of the homes have beautiful front porches, and the perfect way to enjoy them is on a rocking chair with a tall glass of iced tea and one of Joanna's famous cupcakes. If your entry has room, add a rocking chair or two of your own. A hot cup of apple cider will turn afternoon relaxing into a sweet retreat.
Family-Friendly Storage:

Joanna is always thinking of the kiddos, as well as their shoes, sports equipment, backpacks and toys. You'll often find cute cubbies, bins and baskets in the entryway where kids' (and adults') things can be neatly and conveniently stored.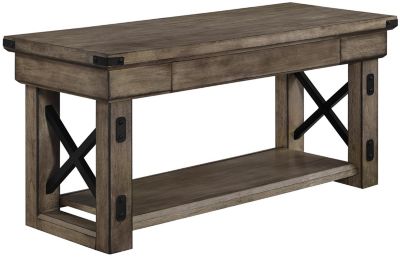 Seating:

In addition to storage, Joanna loves to include an entryway bench where guests can sit or kids can stop to put on their boots. She usually finds something with a sense of history, to add character to the space. And a mix of materials adds that industrial touch.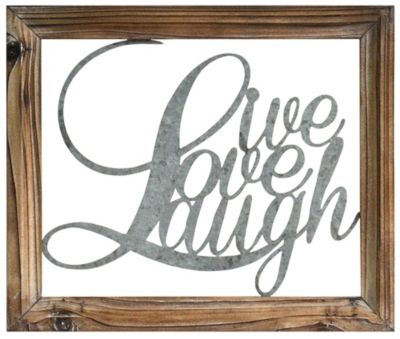 Quote Art:

Whether it's beloved saying or simply words that have meaning, Joanna often has Texas artist Jimmy Don turn inspirational sayings into metal art hung in the entry or foyer. Words can welcome you home, or remind you of what's important as you leave. Find the phrase that means the most to you, and display it with love.
How many of these items do you have in your entryway?



Art Van Magnolia Makeover:
Tight Budget, Big Wish List
Will and Lauren are returning to Waco to raise their two daughters in the house of their dreams. They had a tight budget and a big wish list, and Chip and Joanna didn't disappoint, turning a run-of-the-mill '70s ranch into a large, welcoming family home. We love the quaint breakfast nook off the kitchen. If you like its charm, too, here are the three easy pieces you'll need to give your room a Magnolia Makeover:


SHOP THIS LOOK
Start with the exact table Joanna used in the renovation. The Round Pedestal Table allows you to add chairs and make room for guests, while the scalloped wooden edge turns breakfast into a special affair.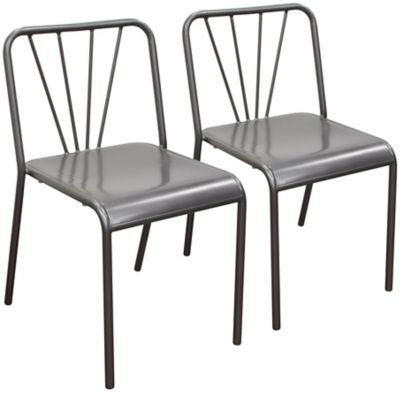 Next add metal chairs. These Gray Chairs add a sleek modern vibe, which provides a nice contrast to the farmhouse-style wooden table. The combination feels fresh and fun.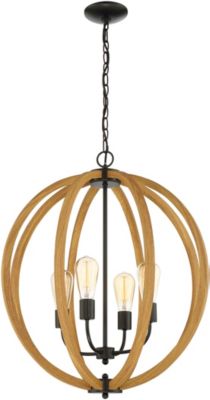 Finally, add a chandelier. Our Minnie Oak Chandelier offers the same look as our inspiration room, with an arched oak frame and exposed bulbs. The chandelier provides the perfect piece to complement the mix of metal chairs and wooden table.
What do you think of this week's Magnolia Makeover? Visit our showroom to see the entire Magnolia Home Furniture collection.



Art Van Magnolia Makeover:
Plain Gray Ranch Made Bright and Spectacular
Young couple Matt and Melissa were looking to put down roots and buy their first house together. They settled on a ranch that needed lots of help to turn it into the bright, open home they envisioned. Of course, Chip and Joanna didn't disappoint, and we love the open kitchen they designed. If you love it too, give yourself a Magnolia Makeover with these four pieces.


SHOP THIS LOOK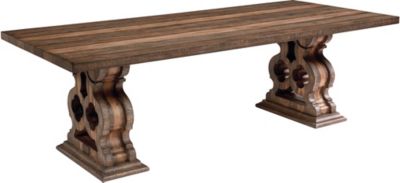 Start with the exact table Joanna used in the renovation. From the Magnolia Home Collection, the Double Pedestal Table has a beautiful base that was inspired by the massive corbel brackets used in antique architecture. The piece adds character to the room with its weathered "shop floor" finish.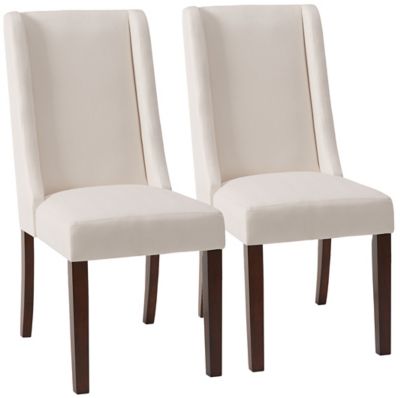 Next, add dining chairs upholstered in a crisp white fabric. Our Brody Dining Chairs are sold in sets of two, and are part of our free-shipping collection. The light fabric offers a beautiful contrast to the rich finish of the wooden table.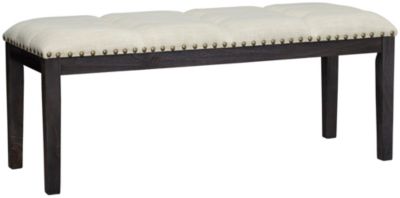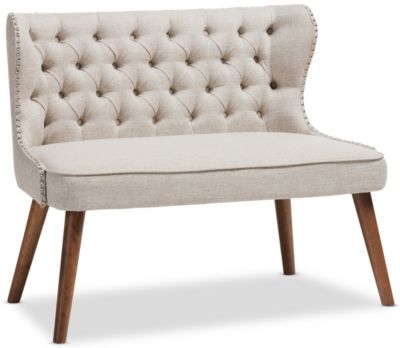 If your room cannot accommodate a built-in banquette, create the same look by using an upholstered bench or settee. Our Fillmore Upholstered Bench is a great option if you're trying to maximize space as it conveniently tucks under the table, freeing up your floor. Or add the tufted Lille Loveseat, which delivers the same cozy feel as our inspiration room.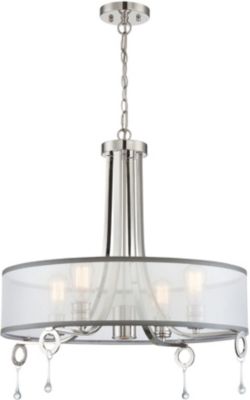 Finally, give your room a modern touch with a chandelier. Our Lenora Steel Chandelier offers similar lines as our inspiration room, with its drum shade, traditional candle-style lights, and a touch of glamour with dangling prisms. The light shad complements the upholstered dining chairs.



Art Van Magnolia Makeover:
A First Home For Avid Dog Lovers
Andrew and Brittany were looking to buy their first home together, and one of their must-haves was an inviting feeling for their two dogs. They settled on a four-bedroom house built 1958 that sat on a beautiful lot with mature oak trees. The couple wanted a large main living space, and we love with Joanna did with the living room, which offers casual sophistication for the couple. If you love it, too, it's time to do a Magnolia Makeover in your home.


SHOP THIS LOOK
Start with the exact sofa Joanna chose for the room. Available by order at any Art Van Furniture showroom, the Modern Tailor Sofa from Magnolia Home features tuxedo style and smart tufting. The rich gray upholstery is sophisticated as well as family- (and pet-) friendly.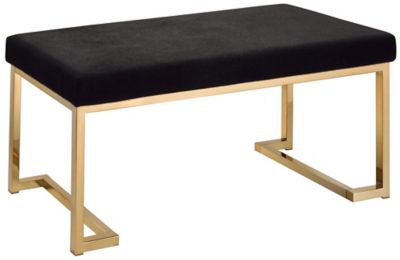 Next add the cocktail bench. You can get the exact Linear Upholstered Bench from Magnolia Home in a color called "fog." Or mix things up a bit by choosing our Boice Black Bench, with a beautiful gold metal base. The dark upholstery offers a nice contrast to the gray sofa.
Next add two accent chairs. We have the exact Cambridge Accent Chairs from Magnolia Home in stock, available for immediate pickup or delivery. The European style offers a nice complement to the modern sofa, and the soft color lightens up the room.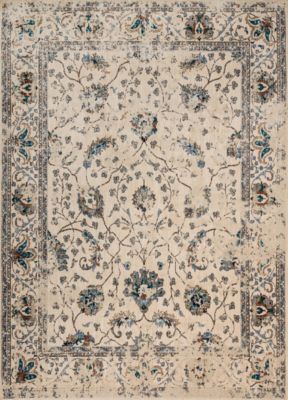 Finally, anchor the space with a rug. The Kivi Ivory Multi-color Rug from Magnolia Home is the same one Joanna chose for the room. You'll love the classic pattern for years to come, and it's versatile style blends beautifully with any decor.



Add dogs and you'll have the same room that thrilled this adorable couple!



Art Van Magnolia Makeover:
Stately In White
Joanna helped fellow designer Kristen and husband Brett redefine the interior of their new house. She took a home that was living in the '80s, and made it elegant and modern. We love the quaint dining space, located just off the kitchen. It features a beautiful antique mantel that provides storage as well as a interesting focal point. If you love it, too, let us help you create a Magnolia Makeover in your own home.


SHOP THIS LOOK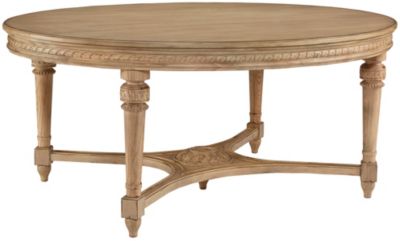 Start with the exact table used in the show. From Magnolia Home by Joanna Gaines, the English Country Oval Table features classical ornament and details, inspired by an original piece. The oval shape feels inviting and inclusive, and the medallion on the base makes it beautiful from top to bottom.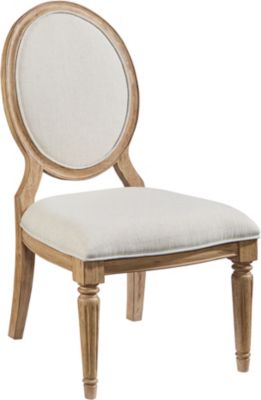 Next, add the identical chairs from the Gaines' remodel. Also from Magnolia Home by Joanna Gaines, these French-inspired Emory Side Chairs mimic the table with their oval backs and tapered legs, creating a sophisticated European setting.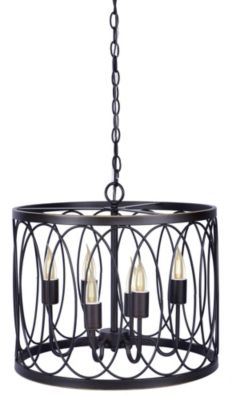 The "Stately In White" home features a beautiful drum-style chandelier over the table. We think the Rae Bronze Chandelier would be a great addition to your room. Offering a blend of chic and industrial influences, it will bring an updated twist to your elegant room.
Finally, add the same rug Joanna used in the room, the Ella Rose Bone. From Magnolia Home, it is a modern interpretation of traditional Persian style, intentionally faded to create a transitional look.



Art Van Magnolia Makeover:
A Country Home Reimagined
Chip and Joanna Gaines had a big challenge: redefine the quirky space and floor plan of a rural home for a couple with two grown kids. The result was a dramatic transformation that kept the country charm but added an updated sense of sophistication. We love the farmhouse dining area, which comfortably seats eight for dinner and conversation. If you like the space, too, give yourself a Magnolia Makeover by bringing home these four pieces:


SHOP THIS LOOK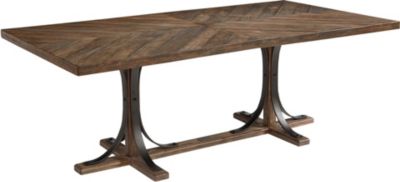 Start with the exact table Joanna used in the episode, the Iron Trestle Table from Magnolia Home by Joanna Gaines. The traditional style is a show piece, combining unexpected elements such as a curved metal base and a V-match planked top with a worn and rugged "shop floor" finish. The piece is an instant heirloom, with lots of character and charm.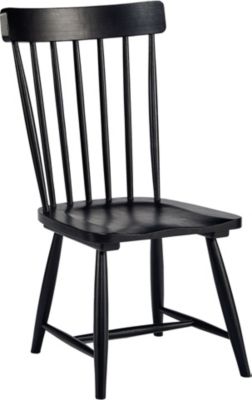 Next, add the same Spindle Back Chairs from Magnolia Home by Joanna Gaines. The farmhouse style was inspired by Windsor chairs, which have been family favorites for generations. Joanna updates her chairs with a distressed black finish, adding a twist to a traditional dining space.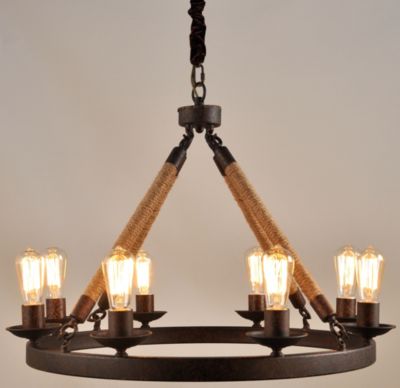 A unique chandelier adds a rustic touch in our inspiration room. Our Grand Eight Round Chandelier would be a great choice. The forged iron design features rope accents and a rustic finish, and the bulbs add a warm glow to dinnertime.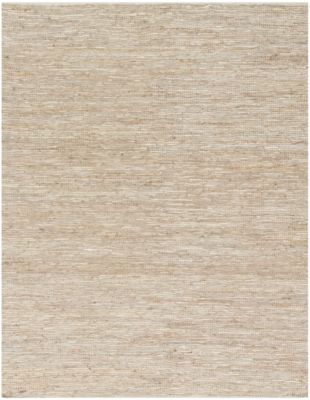 Finally, anchor the space with a neutral rug. Our Edge Ivory Rug adds dimension with alternating strips of leather and jute for a unique tactile feel that your feet will love. The light neutral color offers nice contrast to the black chairs and dark table, defining your space with style.



Art Van Magnolia Makeover:
A Special Home Makeover for a US Army Veteran
Instead of helping someone purchase and renovate a home, Joanna and Chip upgraded a house built in the 1940s for a military vet and his wife. Joanna worked to expand the 800-square-foot home, using creative ways to add function, space, warmth and beauty. We love how airy the small living room looks. If you like the style, we've got the look.


SHOP THIS LOOK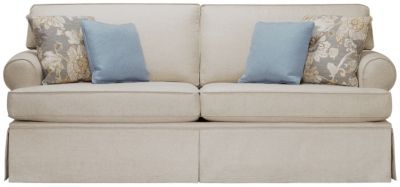 Start with the slipcover-style sofa. Practical and classic, it sets an easy and casual tone in the room. We have the exact piece, the Benchmark Sofa from Magnolia Home, available by custom order in our showroom. Or choose the easy style of our Larimar Sofa, with its rolled arms, dressmaker skirt and light upholstery.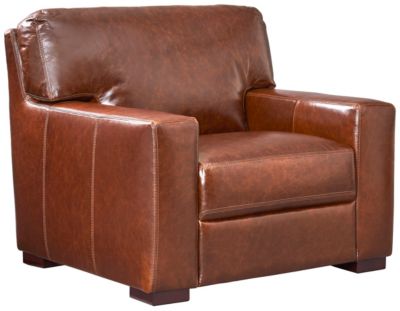 Next, add a pair of casual leather chairs. Our Perry Chair upholstered in a warm brown shade of 100% genuine leather is a good choice. Its track arms, simple lines and comfortable seat make it a casual favorite.
Finally, add the industrial style cocktail table and end tables. The Pier & Beam collection from Magnolia Home has a butcher block look finished in rustic salvage with a chimney metal frame and legs. The pieces add a sense of history and character to your room.
Making over your room is easy with Magnolia Home. Are you ready?



Art Van Magnolia Makeover:
Midcentury Ranch Gets A New Look
Keith and Annabeth, a sweet couple who had recently adopted two daughters and were in search of a family-friendly home where their three children could grow and play. They settled on a midcentury modern ranch that Chip and Joanna transformed into a rustic, farmhouse with special spaces, including this sweet bedroom for the girls. (Get a behind-the-scenes tour from Joanna with this video.)


SHOP THIS LOOK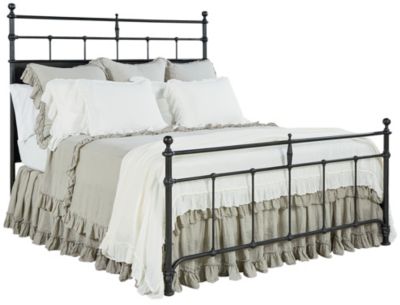 Start with an iron bed... or two. Order the exact bed-the Primitive Colonnade Twin Metal Bed-by visiting one of our showrooms. Or substitute the Magnolia Home Trellis Bed, which offers the same vintage charm. We stock this bed in queen and king sizes, or can deliver twin or full size through custom order.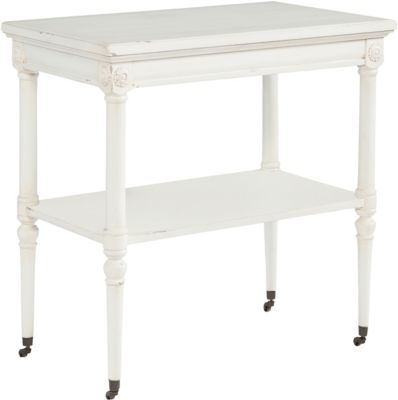 Between the beds, Joanna has placed a sweet white table, which serves as a nightstand. We carry the Petite Rosette Table that features a lower open shelf and casters so it can be moved around and used as a work surface.
A special space deserves a special light fixture, and our Tiffany Small Chandelier features six tiers of teardrop-shaped crystals that sparkle when lit. It's available online and includes free shipping.
Imagine tucking your daughter-or yourself-in bed each night in a room that looks dollhouse perfect!



Art Van Magnolia Makeover:
Space in the Suburbs
San Diego transplants Mary and Dustyn moved to the Waco suburbs. We loved how this couple included their children in decision-making, and we love their elegant and modern home. The dining room is a good example of their style. The room has a formal feel with farmhouse touches. If you like the style, we've got the look.


SHOP THIS LOOK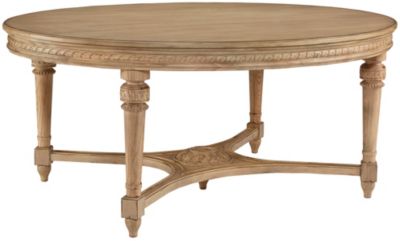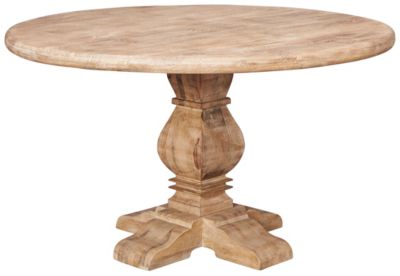 A dining room starts with a great table, and we've got two options. The first choice is the English Country Oval Table from Magnolia Home by Joanna Gaines. Inspired by an antique, this piece offers a touch of history and character with beautiful detailed molding on the apron, round turned legs and a medallion ornament on the X-stretcher. If you prefer a pedestal table like the inspiration room, our San Rafael Round Table is a great option. Made of solid mango hardwood and finished in antique oak, it has a beautiful hand-scalloped tabletop and heavy pedestal base.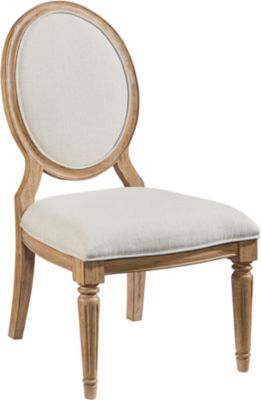 Continuing the European feel are the wooden and upholstered chairs. From Magnolia Home by Joanna Gaines, the French-inspired Emery Side Chair has an oval back that would perfectly complement the oval or round table. The upholstered seat and backrest look sophisticated, and the turned legs mimic the details of the table.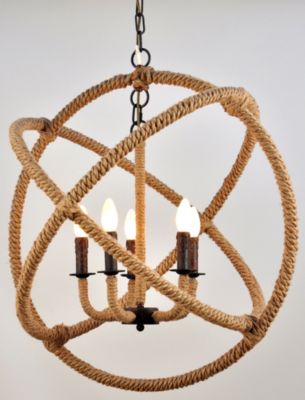 Joanna chose an unusual chandelier that offers an urban twist to this traditional room. Our Tuscan Rope Chandelier brings that same feel to your room. The iron frame is covered in textured rope, offering a rustic, beach house feel.
Finally, anchor the room with a rug. The round shape adds a bit of drama, and mimics the lines of the table, chairs and chandelier. The beautiful Persian design offers timeless elegance, perfectly complementing the furniture.



Art Van Magnolia Makeover:
5 Items Joanna Often Uses In Her Renovations
Our Magnolia Home Collection lets you bring home Joanna Gaines' signature look style. While her makeovers are always stunning, we noticed that Joanna loves to use these five elements in each of her renos.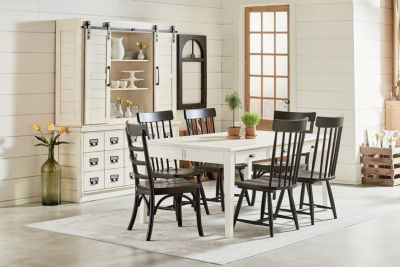 SHIPLAP
Admit it. None of us knew what shiplap was before Joanna Gaines. Now we all want the beautiful reclaimed wood in our homes. From walls to furniture, every room can use a little shiplap.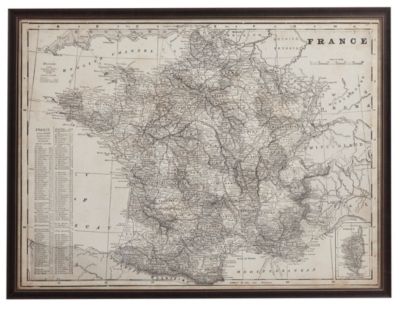 VINTAGE MAPS
There's something nostalgic and beautiful about framing and hanging vintage maps. Whether it's from your city, your travels or your dreams, framed vintage maps add a sense of adventure to your room.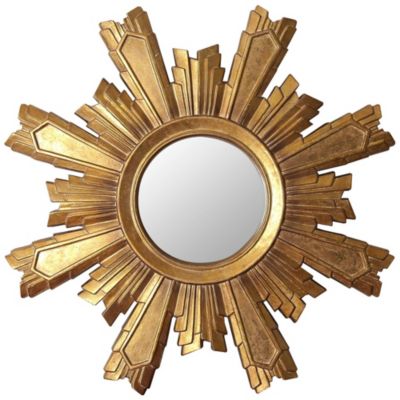 MIRRORS
Mirrors work magic in a room, adding light and visually enlarging the space. Joanna loves to use mirrors in many of her rooms, often featuring shapes that define the decor or mimic architectural lines.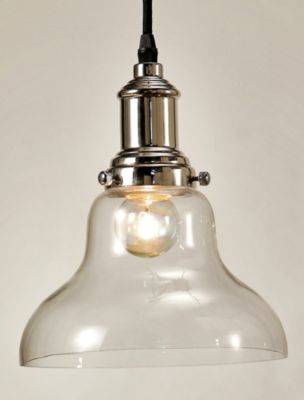 PENDANT LIGHTS
Most of Joanna's designs include large kitchen islands, and the way to create a sense of coziness is to anchor them with statement pendant lights. Not only do pendants provide task lighting; they underscore the design of the home.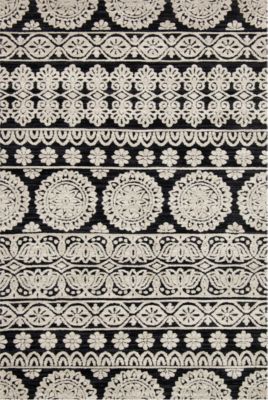 RUGS
When Chip and Joanna start to renovate a home, they often uncover original wood flooring under old carpet. While wood floors are beautiful, area rugs add warmth and style. Joanna always uses a beautiful rug or two to define special spaces.



Art Van Magnolia Makeover:
Colossal Crawford Reno
Michael Matsumoto and his wife Jessie left L.A. to put down roots in Waco, and they chose a "before" home that Chip nicknamed "The Little Shack on the Prairie."

Chip and Joanna transformed a super rustic dwelling into a quaint and contemporary home. We loved the master suite, which was simple and charming. If you liked it, too, we've got the look.

SHOP THIS LOOK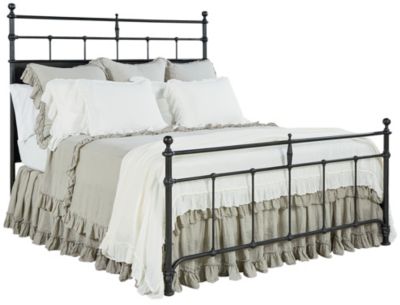 The focal point of the bedroom is the bed, and the classic metal bed Joanna chose is stunning and timeless. We carry the exact Trellis Metal Bed from Magnolia Home in queen and king size. The black vintage-inspired design is reminiscent of days past, featuring a higher profile headboard with a solid metal panel. It gets a special touch with ball finials and dainty castings.
The Colossal Crawford Reno master bedroom is anchored with an oversized rug in a soft neutral. The Ella Rose Natural Rug from Magnolia Home would be a great choice. Measuring 8' x 11', it is sure to fill your space and warm your feet in the morning. The muted tones will blend with your bedding and provide you with a dreamy atmosphere.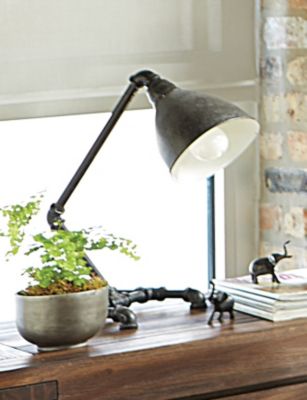 On the nightstands, Joanna chose vintage-inspired lamps. Our Virider Desk Lamps would be the perfect choice. The adjustable base allows you to direct light where it's needed, while the black metal material complements the black metal bed.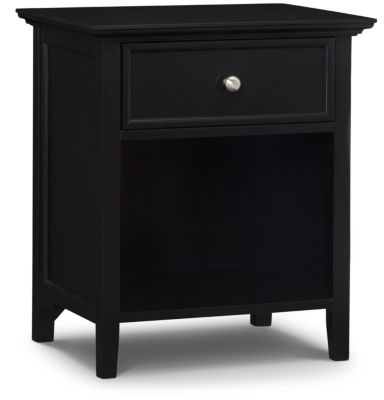 Finally, Joanna uses two simple black nightstands on either side of the metal bed. Our Abbot Black Nightstand would a great choice. The single drawer offers just enough bedside storage while the nickel hardware adds just enough sparkle. An open shelf allows you to stack reading material or display a favorite accent piece.



Art Van Magnolia Makeover:
The Flipper Upper
Before they were stars, Joanna and Chip Gaines were home flippers. Recently, they returned to their roots by buying their own home and renovating it to sell.

We love the simple updates they did to the master suite, which turned a challenging floor plan with a wall of windows into a bright and open space. The Gaines' replaced the ceiling fan with something more contemporary, refinished the floors, gave the walls a fresh coat of paint and added a single open shelf added above the headboard. The result combines urban with midcentury modern... and we've got the look.

SHOP THIS LOOK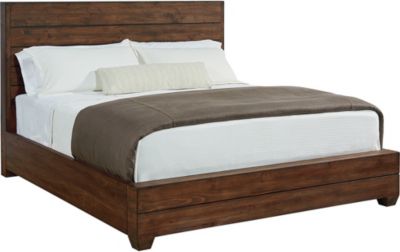 Joanna sets the stage in the room with the modern bed that features a shiplap headboard. The Framework Bed from Magnolia Home offers the exact same look, in a slightly darker finish. The bed can be used with or without a skirt.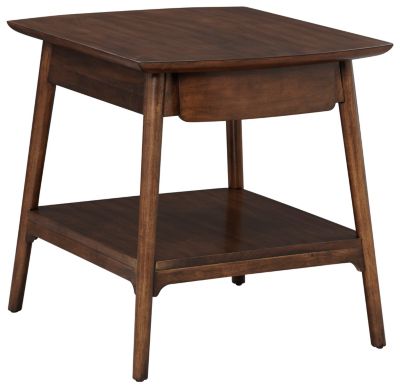 A pair of single midcentury modern nightstands complements the rustic feel of the bed, and makes the space feel lighter. The drawers add just enough storage, while the modern lamps add light for reading in bed. Our Mila End Tables would be a great pick. The wood finish matches the bed, and the sleek lines mimic the tables in our inspiration room.
Instead of a traditional dresser, Joanna uses a beautiful urban-style, which has a flat wooden front. The style complements the headboard, and keeps things clean and simple. Our Brisbane Dresser would be a perfect choice, matching the finish of the bed.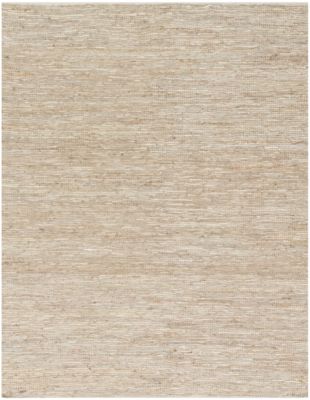 Finally, the room is finished with an oversized ecru rug in a low pile. Breaking up the wood in the room and warming up the floor, the rug also softens the room by adding another texture. Our Edge Ivory rug would be perfect, with its hand-woven tactile feel.