Home / Furniture / Recliners /
Fabric Recliners
DETAILS
Dimensions: Height - 41.00" Width - 33.00" Depth - 35.80"
Fabric: Top grain leather
Color: Brown
Cushions: Computer controlled injection molded cold-cured foam
Construction: Steel frame construction with solid hard woods
Spring Construction: Sinuous springs encased in cold-cured molded foam
Care Instructions: Clean with a soft damp cloth
Also in this collection

Boston Dual Power Gliding Recl
Compare $3,649.99
Art Van Price

$1,849.99
You Pay: $1,387.49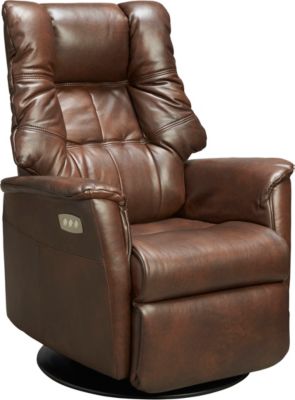 Boston Dual Power Gliding Recl
Compare $3,549.99
Art Van Price

$1,799.99
You Pay: $1,349.99
RETURN POLICY
We want you to be happy. If you aren't, please contact us within 7 days at 1-888 4ART-VAN to arrange a return, exchange or reselection on qualifying merchandise. Returns of regularly-stocked merchandise within 7 days of receipt are eligible to receive a merchandise refund, less a 15% return fee and return delivery fee. Items must be in new condition and in the original packaging to qualify for a refund. A receipt and return authorization are required for all returns, exchanges and re-selections.
Sorry, we cannot return, exchange or refund floor samples, soiled or misused merchandise, items used commercially, and items delivered by non-Art Van provided carriers. Read our complete return policy to learn more.
MANUFACTURER'S WARRANTY
Ten year warranty on frame, springs, and foam. Five years on mechanism and two years on motors and fabric Please call 1-888-4-ARTVAN for details.
SEE IN STORE
Would you like to see this item in person? This item is on display at the locations listed below.

Please note: The display model is not for sale unless it has been designated as being "Available In Store Only". Availability at the locations listed below is subject to change. Call the location to confirm that the item is on display or is available to be sold off of the floor.


We strive to display the most accurate color possible. The colors you see on your screen may vary from the actual product colors, based on your screen's display capabilities.