Home / Furniture / Mattresses /
Sleep Accessories
DETAILS
Dimensions: Height - 26.00" Width - 16.00" Depth - 4.00"
Additional Notes: -Unique Contour Shape: Made for all types of sleepers. Contour on one side to offer 2 pillows in 1. Keeps spine aligned through the night. -Lighter, Fluffier, Airier: Molded foam is 100% Water based to retain less heat, no harsh chemicals, and is environmentally safer. -CooLuxe Out Cold Cover: High Density Polymer pulls heat away instantly. Durable, flexible, and cool to the touch, it will never dissipate. -Brushed Velour: Other side offers the original quality Micor Mink cover everyone loves from first touch. -Removable and washable cover -3 Year Manufacturer Defect Warranty -Made in Michigan
Color: White
Also in this collection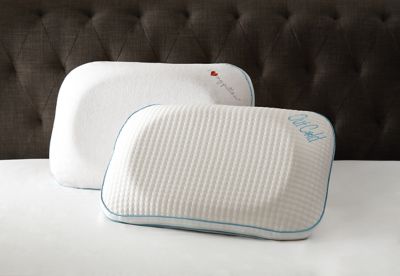 I Love My Pillow OutCold Mid
Compare $199.99
Art Van Price

$99.99
You Pay: $89.99
RETURN POLICY
If you purchase a new sleep set, min. $499, along with mattress protector and our Bedding Comfort Protection Program, you qualify for a one-time mattress reselection. If after a minimum of 30 days you are unable to comfortably adjust to the support of your new mattress, you have up to the 60th day from the original delivery date to make a one-time reselection. Failure to use the mattress protector as instructed voids the Comfort Protection.
Sorry, we cannot return, exchange or refund Clearance Center merchandise, linens, mattress protectors and encasements, pillows, comforters, adjustable bed bases and foundations, as-is products, floor samples, soiled or misused merchandise, items used commercially, and items delivered by non-Art Van provided carriers. Mattresses and foundations cannot be returned for a refund. Read our complete return policy to learn more.
SEE IN STORE
Would you like to see this item in person? This item is on display at the locations listed below.

Please note: The display model is not for sale unless it has been designated as being "Available In Store Only". Availability at the locations listed below is subject to change. Call the location to confirm that the item is on display or is available to be sold off of the floor.


We strive to display the most accurate color possible. The colors you see on your screen may vary from the actual product colors, based on your screen's display capabilities.