Home / Furniture / Living Rooms /
Sleepers
DETAILS
Fabric: Upholstered in soft faux leather. Available in Red, Onyx, and Pearl. 80% Polyester/20% Polyurethane cc: W
Color: Black
Cushions: The seat cushions consist of resilient 1.5 density foam with a soft Dacron wrap on the top and bottom.
Construction: Frame is constructed from mixed hardwood and multi- layered plywood and is glued, stapled, and corner blocked for added stability.
Spring Construction: 8 gauge sinuous no-sag springs with a linking wire tie the seating surface together.
Care Instructions: Use water-based cleaner.
This Set Contains:
(1) RAF Queen Sleeper

H-38.00" W-86.00" D-37.00"
(1) LAF Bump Chaise

H-38.00" W-86.00" D-37.00"
(1) Laney 3PK Occasional Tables

H-18.00" W-47.00" D-23.00"
(1) Mitzi Pair of Table Lamps

H-29.00" W-17.00" D-11.50"
RETURN POLICY
Our Outlet offers close-outs, discontinued items, special purchases and manufacturers buy-outs all at the lowest price possible. Sorry, we cannot return, exchange or refund Outlet merchandise – all merchandise is final sale. Read our complete return policy to learn more.
MANUFACTURER'S WARRANTY
One year warranty available for purchase. Please call 1-888-4-ARTVAN for details.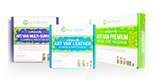 COMPLETE CARE PROTECTION PROGRAM
Extended warranties and full service protection
beyond manufacturer's warranty.
Learn More
SEE IN STORE
Would you like to see this item in person? This item is on display at the locations listed below.

Please note: The display model is not for sale unless it has been designated as being "Available In Store Only". Availability at the locations listed below is subject to change. Call the location to confirm that the item is on display or is available to be sold off of the floor.


We strive to display the most accurate color possible. The colors you see on your screen may vary from the actual product colors, based on your screen's display capabilities.