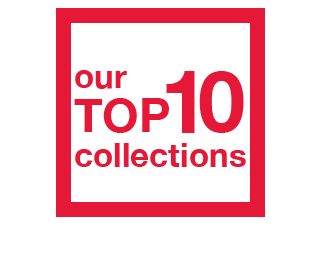 Art Van's Top 10 - the best style and value in America exclusively at Art Van. Made better with custom order options and special features you won't find anywhere else. Our exclusive furniture collections have been curated from the best of the best, offering a variety of styles and price points.
Our Featured Collections
Magnolia Home
Home is the most important place on earth. It's where life happens and where your family's story is told. Each Magnolia Home Collection is designed and curated by Joanna to simplify the process of turning your house into a home.
Cindy Crawford Home
Cindy Crawford exudes style, charm, beauty and grace. These qualities are entrenched in the Cindy Crawford Home Collection. The sofas, sectionals, chairs and room accent pieces in this collection have been designed to appeal to a variety of lifestyles.
Cindy Crawford Custom Colors
The Cindy Crawford Custom Colors Collection puts the design pen into your hands as you can create a unique living space based on furniture configuration and color. The furniture in the various collections are upholstered in soft-to-the-touch microfiber fabric and available in variety of color options.
Nigel Barker
Famous photographer Nigel Barker has brought his eye for style to Art Van Home with his global and modern collections of furniture for the living room, dining room, bedroom and outdoors. World travels, taking photographs in exotic locales and his English heritage are the inspiration for his furniture designs.
Detroit Sofa Co
Detroit Sofa Co. has merged high style with ultimate comfort for a new kind of luxury ride. Choose among the collections of sofas and sectionals and the many body fabrics and accent fabrics to create your perfect living room. What Detroit did for transportation, Detroit Sofa Co. is doing for relaxation. Proudly made in the USA.
La-Z-Boy
Well-known for the production of the first recliner, La-Z-Boy offers comfort, style and innovation to your living space. With its industry-leading craftsmanship, it can revolutionize any room in your home. Bring back style and satisfaction with La-Z-Boy at Art Van Furniture.
Style Collection
Style Collection is an Art Van exclusive line that is Made in the USA. Designed to mix and match, combine individual pieces from any collection to create your own look. Plus, choose custom order fabrics at no additional charge and create a room that is uniquely yours.
Gascho
Known for its hand-crafted American-made furniture, Gascho Furniture Company takes the traditional methods and techniques of woodworking and creates beautiful heirloom dining and bedroom pieces. Explore the artistry of Gascho at Art Van Furniture.
Roma
The Roma Leather Collection is an Art Van exclusive that gives the opportunity to design your living room by choosing from 24 genuine leathers and more than 40 accent fabrics. In addition, you can mix and match pieces from the different collections to create your own unique look.
Natuzzi
Natuzzi offers unparalleled comfort with an encompassed design for your home. These pieces have a contemporary and modern style that is perfect for many living room designs and consist of genuine leather that is cool in the summer and warm in the winter. Natuzzi owns their tanneries, giving the company complete control over the quality of their leather.