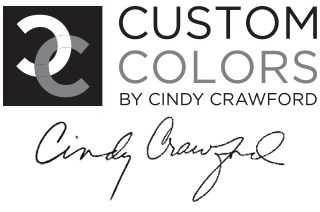 Our Cindy Crawford Custom Colors Collections
The Cindy Crawford Custom Colors Collection puts the design pen into your hands as you can create a unique living space based on furniture configuration and color. The furniture in the various collections is upholstered in soft-to-the-touch microfiber fabric from a neutral color palette. If you prefer bold colors, simply custom order your preferred color as there are several options available.
Custom Orders
Create an original classic with 30 fabrics to choose from. Stately designs and elegant appointments let you build your own personalized collection. To place a custom order visit us at your local Art Van or give us a call at (888) 427-8826.

Choose Your
Style

Mix and match styles to create a look that is uniquely yours.

Choose Your
Body Fabric

Create the room of your dreams with your choice of 30 body fabrics.

Choose Your
Accent Color

Add appeal with over 20 colors and patterns for your accent chairs and ottomans.
Shop Cindy Crawford Custom Colors By Collection
Illusions II Collection
Designed for flexible arrangements by pairing several pieces, the Illusions II Collection features sectionals that can be positioned in a variety of configurations. Available in a variety of neutral colors, you can also custom order pieces from several additional colors.
Murphy Collection
The Murphy Collection has a casual style and includes sleeper sofas in three sizes. These sleepers have memory foam mattresses that provide additional sleeping space and you can custom order your sofa if you want a color other than red, beige or grey.
Dillon Collection
This collection features the ultimate in casual comfort. The sofas, loveseats and chairs have deep seating and are upholstered in a soft and durable microfiber fabric in mineral or slate color.
Dillon Sectional Collection
Make the most of your living room space with a Dillon sectional. This collection offers endless design possibilities with unique pieces. Upholstered in a microfiber fabric in your choice of mineral or slate.