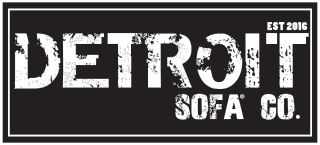 Our Detroit Sofa Co. Collections
Detroit Sofa Co. has merged high style with ultimate comfort for a new kind of luxury ride. Choose among the collections of sofas and sectionals and the many body fabrics and accent fabrics to create your perfect living room. What Detroit did for transportation, Detroit Sofa Co. is doing for relaxation. Inspired by Motor City muscle and proudly handcrafted in the USA.
Custom Orders
Create an original classic with over 50 body fabrics to choose from. Stately designs and elegant appointments let you build your own personalized collection. To place a custom order visit us at your local Art Van or give us a call at (888) 427-8826.

Choose Your
Style

Mix and match styles to create a look that is uniquely yours.

Choose Your
Body Fabric

Create the room of your dreams with your choice of over 50 body fabric options.

Choose Your
Accent Color

Over 60 accent fabrics available for your accent chair, ottoman or toss pillow.
Shop Detroit Sofa Co. by Collection
Davison Collection
The Davison Collection is named after America's first urban freeway, fittingly located in the Motor City. As relaxing as a Sunday drive, its comfortable lines deliver a luxurious and scenic experience.
Jefferson Collection
Jefferson Avenue offers some of Detroit's most scenic views of the Detroit River. The Jefferson Collection is equally breathtaking. Curved lines and sophisticated tailoring create the perfect place to take in the view.
Ambassador Collection
The Ambassador Collection is designed to provide the ultimate in relaxation, featuring soft fabric, lumbar supporting pillows and 10-inch thick cushions.
Chene Park Collection
Located on the Detroit River in the heart of downtown Detroit, Chene Park is the epicenter of entertainment in the summer. The pieces in this collection have a comfortable, casual style that your guests will love as you enjoy an entertaining evening at home.
St. Clair Collection
The St. Clair Collection is named after two vibrant waterways that connect Canada and Michigan. The furniture features contemporary and bold silhouettes with an accent pattern inspired by the water's dynamic flow.
Omni Collection
Grey and ivory are paired beautifully on the pieces in the Omni Collection. The subtlety of these colors is contrasted beautifully by the dramatic patterns on the toss pillows and accent chair.
Shop Detroit Sofa Co
Detroit Sofa Co., an Art Van Home exclusive, merges high style with ultimate comfort for a new kind of luxury ride. You can choose from multiple collections of sofas and sectionals, 28 body fabrics and 34 accent fabrics at no extra charge to personalize your living room décor. Thick cushions, contemporary styling and neutral body colors make these pieces easy to incorporate into most room designs.