How to Buy a Sectional Sofa You'll Love
Buying a sectional sofa for your home is no small decision. It's a signature piece of furniture that's the focal point of any room. And its functionality is nearly limitless. We can expertly help you navigate the landscape of size, type and features when it comes to choosing the best sectional sofa for you.
At Art Van Furniture Stores, we remove the guesswork when it comes to choosing a sectional, and instead, leave you with solutions.
Types of Sectionals
There are two main types of sectionals – modular and stationary. Modular sectionals can be customized by you to suit your needs and space. Both sectionals typically include a sofa and chair feature to seat anywhere from one person to a group of seven.
The best sectional sofa is the central spot of your favorite living space. With options to customize, you can lounge on one end, while family and friends choose from a recliner or sofa with stuffed cushions. Perfect for friends and family, you can loaf and unwind any way you wish.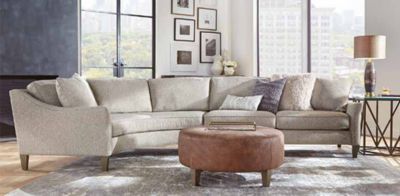 Modular vs. Stationary: Which is Better?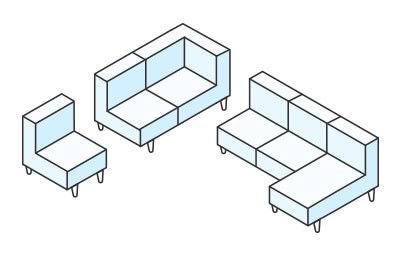 Modular
For you, the best modular sectional might be one you can customize to include chaise lounges, recliners and ottomans, for a complete unit. A modular sectional gives you flexibility to pick and choose parts to the sofa exactly how you like it.
Stationary
Stationary sectionals are in one piece and remain that way. They create a consistent, long-lasting look. You can always get the configuration that works for you, in any size, with your choice of fabrics, colors and features.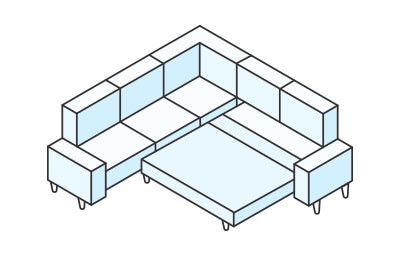 Sleeper
A sleeper sectional features a pull-out bed and may offer storage, perfect for overnight guests. You have a number of options when it comes to choosing a mattress for the sleeper sectional.
Reclining Sectionals
A sectional sofa can feature a reclining chair on either end. Recliners come in two styles – power and manual.
How To Choose The Best Sectional Sofa
To maximize usability of a sectional sofa system, it helps to establish guidelines with respect to size and space. How many people do you want it to seat? How big is the space where the sectional is going? Which type of configuration would you like? You have options to customize size and we can guide you through those.
How Large?
If you have a big family or like to host, a large sectional sofa could be perfect. If you live in a smaller space like an apartment, you can configure a small sectional that looks great and is highly functional.
Where Is It Going?
If it's a large sectional, they usually do quite well in finished basements, home theaters, and large living rooms. Small-to-midsize sectionals work well in nearly any living space.
Sectionals usually perform best in the middle of the room, be it a finished basement, home theater or living room. They can sit in the middle of the room as a centerpiece, or up against a wall for the ultimate form and function.
What Shape?
Sectional sofas can be customized in different layout arrangements, depending on your preference and living space.
L Shape or U-Shape: As the name implies, the sectional lays out in the shape of the letter L or the letter U
Sleeper: A sectional that contains a pull-out mattress
Right-Arm Facing or Left-Arm Facing: As you are seated in the sectional, you can configure it to favor your left or right arm
How To Measure?
It's critical to have an accurate understanding of your space and the dimensions of your sectional. The last thing you want is to spend time and money researching the investment, only to learn that it won't fit in your living room.
How are sectional couches measured? Very carefully. It's important to understand how to read sofa sectional measurements that are listed in product descriptions. Here are the key dimensions to be aware of to measure your sectional:
Height – Measure from the highest point of the sectional, usually the top of the back
Width – Measure from left arm of the sofa to the right arm, accounting for any sectional piece in between.
Depth – For example, "84" D" can be interpreted as 84 inches from the furthest point of the back of the sectional to the front-most edge.
What Makes Up A Sectional Sofa?
Honestly? Anything you want. You can customize your sectional sofa to hold as few, or as many, people as you want. From parties of one to seven. Sectionals usually are made up of the following components: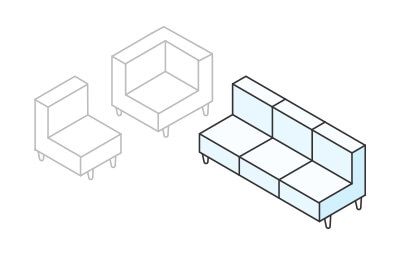 Sofa
This is the sofa portion of the sectional and can comfortably seat three adults.
Loveseat
Also a sofa, but smaller; typically seats two.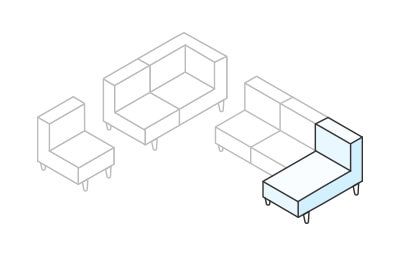 Chaise
A chair, but with a longer seat so you can put up your legs and feet.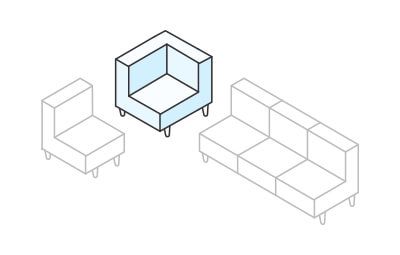 Corner
Sometimes called a Corner Wedge, it's a piece of the sectional with two backs to it, creating a 90-degree angle.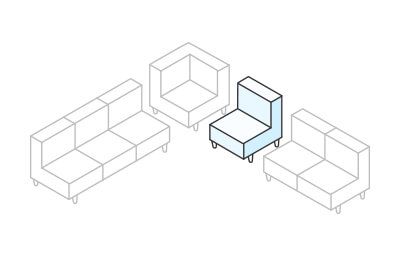 Armless
As it implies, it is a chair piece with no arms, that sits between and bridges two other piece of the sectional sofa.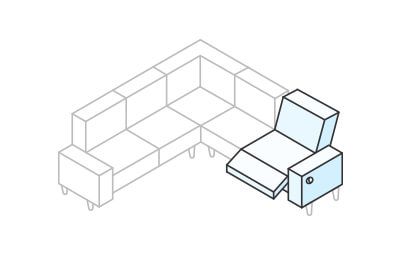 Recliner
A motion furniture option with a reclining chair for ultimate comfort.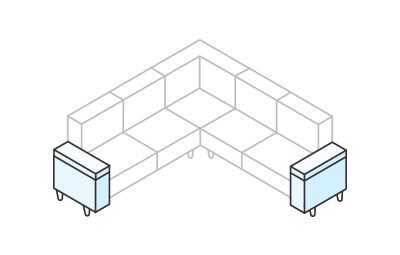 Console
You can have a storage console on the armrest.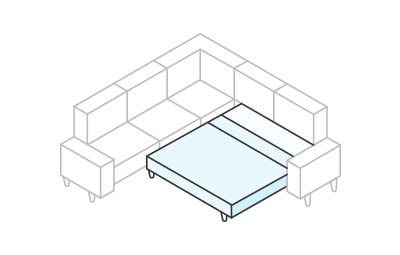 Sofa Bed
A sectional couch with a pull-out bed.
Sectional Sofa Construction
Our sofa sectionals are built to last and that comes courtesy of expert-level craftsmanship. It is in the benefits you can't see just by looking at it. From the interior frame to what's inside of the cushions, our sofa sectionals are as durable as they are great-looking.
Cushion Fabric and Upholstery
Your best sectional sofa can be customized with upholstery of your choice. Go with the easy, breezy look of linen, or durable and stately leather. You have as many style and material options as there are standard pieces. Be bold and mix-match colors.
Bamboo Rayon
Chenille
Coir
Cotton
Cotton Blend
Faux Leather
Flannel
Genuine Leather
Linen
Linen Blend
Microfiber
Olefin
Jersey Knit
Polyester
Polyester Blend
Polypropylene
Sateen
Satin
Silk
Sling
Suede
Sunbrella
Tencel
Velvet
Wool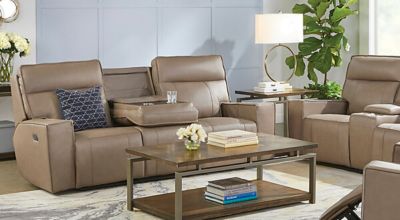 Added Features
While you customize the size, shape and fabric of your sectional sofa, you can also top it off with great features. Charge your phone, safely hold your beverage, or get a massage. Features include:
• USB Ports
• AC adaptor
• Massage
• Cupholder
• Console/Storage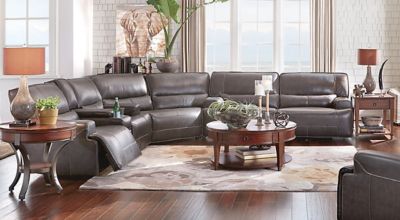 Pull It All Together
Once you've navigated the landscape to become a sectional sofa expert, you have terrific options when it comes to accents that complete your look. Your new sectional is only as fabulous as what you put around it to make it stand out. Consider:
• Rugs
• Lamps
• Ottomans
• End Tables
• Framed Art
Do you feel like a sectional expert? Then it's the perfect time to shop our amazing selection of sectional sofas for sale now at Art Van.
If you're loving the buying tips, explore our furniture and mattress buying guides to soak up more advice to prep you for your next shopping adventure!