Paying It Forward
Supporting charitable efforts in the community is an important pillar of our philosophy. Mr. Van Elslander instilled within Art Van Furniture a sense of responsibility for the communities that we live in and serve. Six decades later, this philosophy continues to guide us and is just one of the many reasons why our 4,000 associates are proud to work at Art Van Furniture.
This tradition continues more than 60 years later with the plethora of charities, organizations, and causes Art Van supports every year.
Inspirational Heroes
Inspiration lives in our community. Each of Art Van Furniture's 77 locations selected a deserving inspirational hero in their community. Watch the stories of our top six honorees, each the recipient of a $5,000 home makeover.
For even more inspiration, read the incredible stories of all of Art Van's Inspirational Heroes!
Ken Baggallay
Ken fostered 17 boys, giving them the gift of family. View his story.
Connie & Carl Glave
Connie delivers food to hundreds of families and Carl fixes their cars. View their story.
Tabitha & Greg Glazier
Tabitha and Greg adopted 9 children, 3 sets of siblings. View their story.
Todd Hastings
In the fight of his life, Todd is a pillar of strength in his community. View his story.
Dawn Maxey
Dawn may have lost her sight, but she found her purpose by helping others. View her story.
Sarah Vandeguchte
Sarah has inspired both children and adults through her benevolent spirit. View her story.
Community Is Key
Giving back is part of our DNA. So much that in the last ten years, Art Van Furniture has donated more than $10 million to charities and has helped raise more than $25 million as well. We partner with similarly minded figures like Cindy Crawford, who serves as the Art Van Charity Challenge ambassador. We also partner with other allies like WXYZ-TV who help us support organizations such as the Gleaner's Community Food Bank with the Together We Can community food drive.
When help is needed most during disasters such as floods, hurricanes, or tornados, we always rise to the challenge of lessening the blow of these devastating events. Our communities know that when the going gets tough, Art Van is ready and willing to help out. We continue to channel Mr. Van Elslander's philanthropic spirit and love doing so.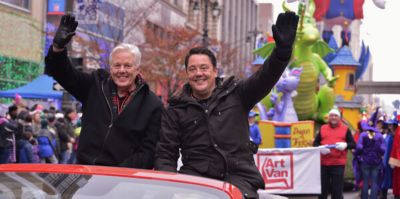 America's Thanksgiving Parade
Mr. Van Elslander's greatest tale of philanthropy is saving America's Thanksigiving Parade in 1990. The Parade Company needed a large sum of money or the parade would be cancelled due to lack of sponsorship.
For years, Mr. Van Elslander enjoyed watching the parade with his children and grandchildren. When he learned the Detroit tradition was in peril, he wrote a personal check for $250,000 to save the event. He always said, "If you are lucky enough to be successful, you have an obligation to give back."
From that point forward, Art Van remained a major contributor to the parade. In 2013, Art Van Furniture cemented itself as a fixture of the parade by becoming the presenting sponsor.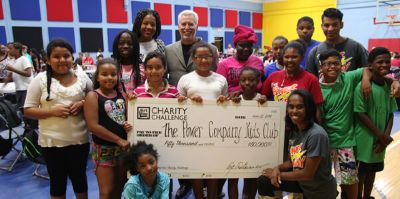 Art Van Charity Challenge
We're celebrating a decade of giving back with the Art Van Charity Challenge this year. With more than $10 million donated and more than $26 million raised, we'd love to keep this streak going as we've helped over 450 charities to date. Cindy Crawford — international supermodel, businesswoman and philanthropist — will be helping us again this year as the Art Van Charity Challenge Ambassador.
The 11th annual Art Van Charity Challenge is offering up $250,000 in grand prizes to help further the missions of participating nonprofits. We'll also be giving away an additional $15,000 during the campaign through Bonus Challenges.
Visit Website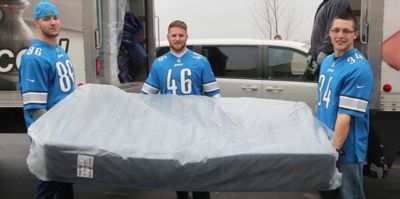 Furniture Donations
New furniture is exciting but replacing your old furniture can be a headache. Consider donating your used sofas, bed sets, chairs and more to community organizations. These organizations will gladly pick up your donation at no charge.
Choose from a charity or community organization of your choice for your donation. Please make sure your donation is in fair condition for regular use and includes the necessary pieces if it is disassembled.
Donate
Requesting Donations
Art Van is happy to consider your donation request which must be done online. We receive thousands of requests each year and do our best to honor each one. We donate to accredited charities and not to individuals. Please review our eligibility requirements & restrictions before submitting an application.
Art Van Furniture has been funding important initiatives for decades. Chances are we have come across your question somewhere along the way. To be considered for a charitable contribution from Art Van Furniture's Community Initiative program, the requesting organization must meet all of the following criteria:
501(c)3 non-profit tax exempt IRS letter
Provide the donation request on official charity letterhead
Be located in or provide services to a community where Art Van Furniture has a store location
State what Art Van Furniture will receive in return
Email all of the attachments to communityinitiatives@artvan.com
Over 450 charities across the Midwest helped
Title sponsor of America's Thanksgiving Parade
Delivered over 3 million bottles of water during Flint Water Crisis