How to Decorate Your Bedroom Like an Expert
Design a bedroom that's stylish, functional, and uniquely you.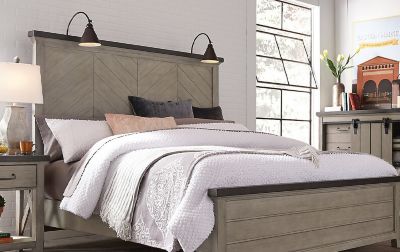 While every room in the house serves a purpose, the bedroom is probably the most special of them all. Even if guests never step foot into your bedroom, it is where we often spend most of our time at home. It's a room that is extremely personal to us – for many, it's the first place we imagine when we want to relax, rest, or escape the rest of the world.
Choosing the right bedroom design is important for creating a tranquil and peaceful space. From style choices and color schemes to bedding and storage, there are several ways you can maximize the design of your bedroom. In the following design guide, we will showcase some of our favorite bedroom ideas and explain why we love them.
Whether you're planning a major bedroom overhaul or just looking to spruce up your space, these bedroom ideas will serve to inspire you and guide you to a look you'll love!
Choosing the Right Style
The first step to creating an amazing bedroom design is choosing a style or theme. There are many themes to choose from, but the best theme is the one that speaks to you and reflects who you are as an individual.
Don't know what style is right for you? Check out some of our favorite design styles to decide which is most ideal for your space.
Light and Bright Bedroom
Everyone loves waking up to natural lighting that brightens up their bedroom, but for some, just having a few open curtains isn't enough. The light and bright bedroom style takes it a step further, making the room seem more spacious with white or cream-colored walls and a soft color palette that illuminates the space.
For this style, focus on adding elements that enhance the brightness of the room like linens, soft but well-placed bedroom lighting, and sheer drapes that take advantage of natural sunlight. Small pops of color or bright accents will help balance the airy aesthetic of your light and bright bedroom.
This style isn't just limited to solid white. Use warm whites or even soft yellows to layer more colors in the space without affecting the brightness of the room.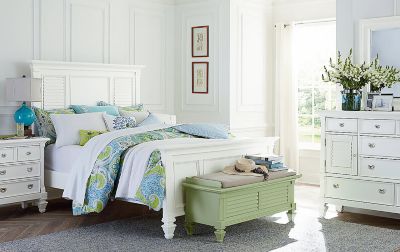 Rustic Bedroom
Rustic bedrooms embrace natural elements and emphasize the outdoors within an indoor space. This style incorporates textures derived from nature, uses simple but earthy colors, and creates a cozy environment that mimics a cabin or farmhouse.
To add a rustic touch to your bedroom, introduce raw natural elements like wood and textured fabrics. Wood paneling can help add layers of texture to the walls, while distressed accessory pieces create an inviting ambiance and unique appeal.
Although this style is traditionally dark, contemporary rustic bedroom styling balances the heaviness of wood and stone features with white or neutral walls and accessories. The dark wood from a rustic bedroom set, for example, can be balanced with light-colored bedding or softer accents.
Finding clever ways to use accessories like woven baskets, rope, and reclaimed wood is an inexpensive way to bring rustic bedroom décor to your room while showcasing pieces that are exclusive to your personal space.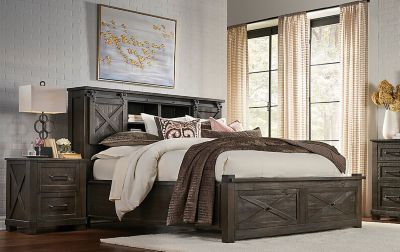 Mid-Century Modern Bedroom
Not much from the 1950s and '60s are still popular today, but the mid-century modern bedroom style has managed to maintain its position as a top design style choice.
Mid-century bedroom design typically combines bright or saturated colors, bold accent walls, and natural materials like wood, metal, and leather. Hairpin and tapered legs on furniture are common with this style, along with bold shapes and patterns. Mid-century bedroom sets are often built with a function-first design and a form complemented by both geometric and curved lines.
Trying to replicate this style directly can result in an outdated look. Instead, start with mid-century modern bedroom furniture pieces that are inspired by the era and then design around those pieces. Small additions such as bold-print accent walls and smart use of saturated colors can make a huge statement in your bedroom while paying homage to the mid-century modern style.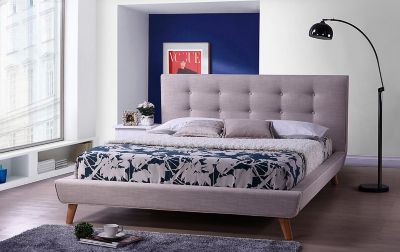 Contemporary Bedroom
Contemporary bedroom design is constantly evolving. Since the word contemporary is based on what is popular today, the characteristics of this style may shift every few years. This style often involves neutral colors, soft textures, and furniture incorporating both straight and curved lines with a focus on form over function.
When designing a contemporary bedroom, choose a color palette based on neutral shades like black, white, gray and tan. For this style, bright colors should be used sparingly and only as an accent – never as the main color choice. Add a variety of textures to enhance the visual appeal of your bedroom and to make the space more inviting.
Select contemporary bedroom furniture pieces such as light-colored wood items or furniture made with glass or metal elements. While neutral colors are often used in a contemporary bedroom, bold colors or patterns can be accented throughout the room with pillows, area rugs, and even artwork.
Deciding on a Color Scheme
Changing the color of your bedroom is the easiest and most inexpensive way to overhaul your space. However, to maximize your bedroom décor, focus on choosing a color scheme that suits your style and produces the look you desire. Here are several color schemes you can consider as you choose your bedroom's color palette:
Monochrome: This scheme uses a single base color for the room, but incorporates a variety of different shades, tints, and tones within the room's palette.
High Contrast: By including contrasts between light and dark, this scheme adds visual interest and allows bold accent colors to pop more effectively.
Warm & Comforting: With warm colors like rich reds, creamy whites, and soft blues, this color scheme creates calmness, coziness, and warmth within a bedroom.
Accent Wall: This scheme uses contrasting paint or wallpaper to accent a single wall, creating a strong focal point within the bedroom.
Make Your Bed Stand Out
Since it's often the largest furniture piece in a bedroom, the bed can have a major impact on the overall look and feel of your space. Check out these smart bed and bedding ideas to give your bedroom an expert design touch.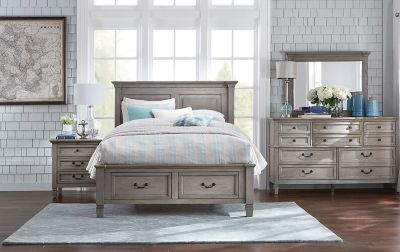 Choose a Striking Bed Frame
If you want to make a huge visual impression in your bedroom, select a dramatic bed frame. Instead of sticking to the common metal frame, choose an option that complements your design and creates a focal point within the bedroom. Some of the best types of bed frames for this purpose include sleigh beds, canopy beds, and four-poster beds.
Make a Custom Headboard
Not ready to replace your entire bedframe? Create the same level of visual impact by repurposing items and creating a custom headboard. Many items can be cleverly repurposed including old doors and windows, barn wood, pegboard and more. Or, use your sewing and crafts skills to create something more artistic like a fabric or tufted headboard.
Layer Your Bedding
Add additional layers to your bedding to create a multi-dimensional appearance. Mix several types of bedding materials to make your bed stand out, while creating a warm space that is ideal for any season.
Follow these steps for a simple bed layering option:
Create a foundation with your favorite comforter or quilt in a color or pattern that suits the style of your room.
Add decorative throw pillows to introduce new patterns and bold pops of color.
Finalize by choosing a throw with a prominent color or pattern and place it over the bottom edge of the bed.
Using Storage in Bedroom Design
Design isn't just about what you can see. Sometimes, good design is about what you can't see – like clutter! Bedroom storage is an important but often overlooked element that is both functional and eye-catching. Here are a few clever ways to add storage and shelving to your bedroom design.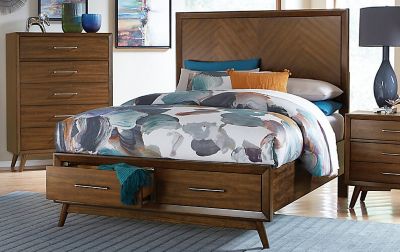 Add Under-the-Bed Storage
Under-bed storage is a fantastic way to keep your bedroom tidy, hide extra items, and declutter your space. The area under the bed is typically unused space that is hidden from view – a perfect place to store shoes, extra blankets, and other items that need to be close at hand but not out in the open.
Some bed frames have drawers and storage solutions, but there are several other options available if your frame does not have this feature. From storage bags and bins to well-designed drawers and wheeled under-bed boxes, the solutions are seemingly endless.
Install Floating Shelves
Unlike under-bed storage, shelves allow you to store items that you want to display. Floating shelves are units that are attached to the wall with no visible brackets or supports. The hardware is hidden to give the impression that the shelf is floating on the wall.
Whether you're displaying photos of your family, artwork, or your favorite books, floating shelves can enhance your space and add a vertical dimension to your design.
Include a Bedroom Vanity
Bedroom vanities are both beautiful and functional. Not only are they a great accent piece to the rest of your bedroom décor, they also provide a dedicated place to get ready in the morning while adding additional storage to your bedroom.
Bedroom vanities are multi-use pieces that include several features. In addition to a mirror (or multiple mirrors), they typically include a matching stool and drawers for hairbrushes, makeup, jewelry and other items. Depending on which vanity you purchase, it may also have one or several shelves or cabinets where you can discreetly store additional items.
Store Clothing in an Armoire
If you're short on closet space, an armoire can make an incredible addition to your bedroom. An armoire is a decorative standing closet that gives you the room you need to hang or store your clothing items.
Armoire cabinets come in a variety of shapes, sizes, and colors to match any design style. In addition to providing storage space for your clothing, some armoires provide compartments for other large items such as televisions, or small valuable items such as jewelry. Choose an armoire that matches the décor of your bedroom and provides the specific functionality that you desire.
Enhance Your Bedroom Décor with Art
The walls of your bedroom make up most of the room's surface space, but it is often an area that is left bare. Paint may add personality to a room, but art gives it character. Use the following bedroom ideas to personalize your room with beautiful and meaningful wall décor.
Purchase a Statement Art Piece
Statement art pieces are large and bold, commanding attention as the centerpiece of the room. These pieces can define a bedroom and unify the rest of its design elements.
Choose wall art that resonates with you while matching the color and style of your room. Consider the dimensions of the piece and make sure that the size is suitable for the space you have available. Remember, these pieces are supposed to make a statement, so hang them in an area where they can be the focal point of the room – preferably, above the bed.
Create DIY Art
You don't need to purchase expensive artwork to make a statement in your bedroom. With a bit of creative ingenuity, you can create your own beautiful artwork.
Not an artist? Don't worry, beautiful artwork can be created by anyone, even those who are less than artistic. Frame your favorite wallpaper or fabric as an easy DIY art project or repurpose an old distressed window as a picture frame. With a few supplies and some creativity, you can create fantastic bedroom art that is special, unique, and exclusive to your bedroom space.
Find Design Inspiration Outdoors
Just because you're indoors doesn't mean you can't borrow inspiration from your favorite outdoor spaces. Incorporating outdoor elements can change the feel of your space and maximize your design options. Here are some of our favorite ways to use outdoor inspiration for bedroom design.
Bring Outdoor Elements Inside
Outdoor items can add texture to your bedroom design and introduce unexpected elements that draw interest. Furthermore, it allows you to surround yourself with nature and stay connected with the outdoors, even when you're indoors!
Think of creative ways to implement outdoor elements. Pinecones that are selectively placed in a basket, or seashells in a jar, can be used as inexpensive natural décor pieces. Wicker and rattan furniture, while typically used outside, can be purchased for your bedroom as a unique and natural alternative.
Consider choosing natural materials like cork or bamboo for flooring and using eco-friendly materials for your bedding. These natural materials look great, are highly durable, and as an added benefit, are better for the environment than manmade materials.
Fill Your Space with Greenery
Greenery décor items are becoming more popular as bedroom accessories. Whether using faux greenery or adorning your space with live foliage, plants can help you introduce nature in your bedroom.
Live plants not only provide a beautiful and natural detail to your space, but they also deliver an additional benefit – improved air quality. Plants like eucalyptus give off unique scents that are usually only found outdoors and have properties that are known to be beneficial to health and healing.
Add Fresh Floral Arrangements
Displaying fresh flower arrangements is an easy and inexpensive way to bring a natural element into your bedroom. With so many options, floral arrangements can be suited to any color or design style. Best of all, they can be replaced frequently to give your bedroom a fresh and updated look. Whether displayed on a nightstand or a floating shelf, fresh flowers can beautify your bedroom while adding an elegant touch.
Designing the Perfect Bedroom
Although each of these bedroom ideas will help elevate your design, it's important to not overdesign your room. Start by selecting an overall style or theme, then choose a color scheme. Consider which design concepts are most important to you in terms of look, feel, and function.
The perfect bedroom design is the one that speaks directly to you and allows you to create a space where you want to spend your time. Are you still having trouble finding the right design for your bedroom? Our expert interior designers can help! Contact us to set up a design consultation and let's design a room that you'll love for years to come.