Design a Breathtaking Living Space with these Living Room Ideas
How-to create a beautiful, cozy and inspired living room you'll love.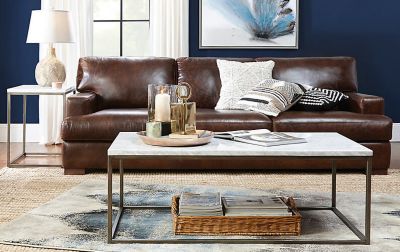 Along with the kitchen, the living room is the central area in most family homes. It's a space that is often shared by all the members of the household, and a room where we invite our guests to socialize. Unfortunately, designing and styling a living room can be quite challenging. While the look of the living room is important, the feel of the space should be inviting, welcoming, and comfortable.
Luckily, with the right inspiration, you can create a living space that is both beautiful and functional. From design style and room layout to window treatments and lighting, several considerations should be made as you complete your living room design. In this design guide, we will provide a few of our favorite living room ideas and explain how you can use them to create a space your whole family will enjoy.
Decide on a Living Room Style
Before purchasing furniture and accessories, choose a general style or theme for your living room. Selecting a style ahead of time will ensure that your design is cohesive and consistent throughout the entire room. Check out the following living room design styles to identify which is most suitable for your space.
Mid-Century Modern Living Room
Mid-century modern living rooms incorporate stylings that were popularized in the 1950s, but with a modern-day touch. This style is defined by high functionality, straight lines, gentle curves, organic influences, and a minimalistic feel.
To create an awesome design with this style, focus on adding a few pieces inspired by the era such as mid-century modern living room chairs or a sofa that incorporates signature characteristics. Natural wood and textured fabrics with bold retro patterns add accents to the room and capture this iconic style.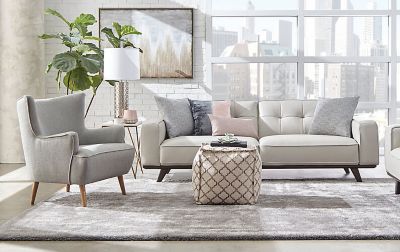 Traditional Living Room
Traditional living rooms are defined by neutral color palettes, rich wood and metal tones, symmetrical furniture pairings, and overall elegance. This style has remained a popular choice for both formal and casual living room spaces.
Traditional living room furniture is comfortable and plush, but neutral in color with simple patterns. Typically, traditional living room sets include pieces that match each other exactly with the same colors, materials, and upholstery. Although this style can incorporate distinctive details and patterns, eclectic pieces and bold pops of color are typically minimized.
Rustic Living Room
Rustic living rooms are full of warmth and have a timeless charm that is both cozy and comfortable. This style pulls inspiration from the traditional cottage or cabin and makes use of natural materials like wood and stone. With a warm color palette, this style is popular among those who want to create a traditional retreat with vintage charm.
This casual living room style is comfortable and laid back, encouraging relaxation and rest. These spaces provide a calm but trendy atmosphere that makes it easy to wind down after a long day.
Popular characteristics of rustic living rooms include aged wood beams and stone fireplaces, furniture with a variety of different textures, and cozy wool area rugs. Rustic living room décor is often handmade and unique with organic details that bring nature indoors.
If the rustic style seems too traditional, a modern rustic living room style may fit your space better. This style pairs traditional furniture with contemporary décor for a classic look that is both elegant and chic.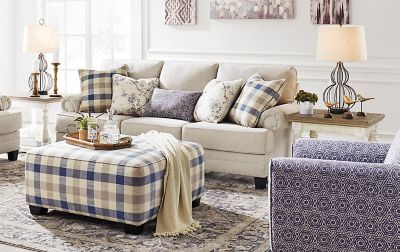 Contemporary Living Room
The contemporary living room style is defined by simple designs with clean lines, sharp edges, and deliberate use of accent colors. Walls are often painted white or neutral while bolder colors and patterns are accented throughout the room.
Contemporary living room furniture adopts a minimalist approach, with simple designs that make a bold statement. Fashionable but functional, these pieces often include touches of wood or metal with a variety of upholstery options from leather to twill and beyond.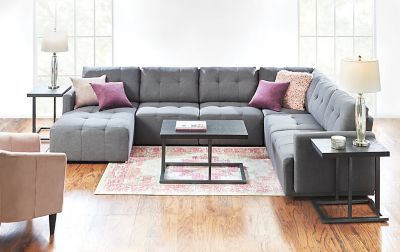 Create A Living Room Layout with Optimal Flow
Once you have chosen a design style, consider how your living room will be organized to maximize flow and make the room as functional as possible. Although a standard living room layout can be used, your layout should ultimately be defined by how you plan to use the space. Here are a few tips for optimizing your living room layout.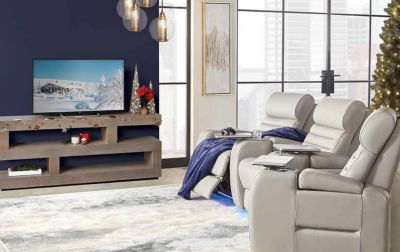 Define Activity Areas
Before designing your living room, decide how it will be used. Will the living room be a place where the family can watch television or an area where they can gather around the fireplace and socialize? Does it need to double up as an office or provide space for the kids to play? A living room can serve a variety of purposes and knowing how your room will be used is essential to designing the most functional living area.
It's important to narrow down the areas that need to be present within your space. If your living room needs to be multi-functional, determine what purpose it will serve and what items are required to fulfill your goals.
Make Use of Unused Space
Does your living room have non-conventional corners or window nooks? While these areas are often left empty, they can provide opportunities to maximize the design of your living room or to make it more purposeful.
Depending on your room, these areas may be optimal for creating a workspace, adding shelving for additional storage, or creating a cozy window seat. With the right addition, you can turn an odd corner or window nook into a functional area that complements the design of your entire living room.
Living Room Furniture Ideas
Living rooms should house a combination of furniture items that allow you to maximize your enjoyment of the space. Common furniture pieces in a living room include sofas and loveseats, accent chairs, coffee tables, television stands, and more. Take the following living room furniture ideas into account as you decide which furnishings will fill your space.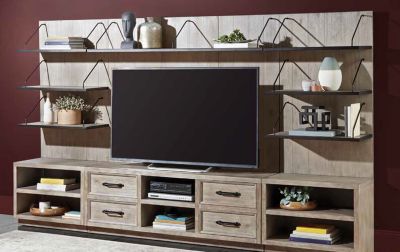 Purchase Functional Living Room Furniture
Great furniture pieces don't just look good, they also allow your family to fully enjoy your living room area. Some living room furniture can transform to serve an additional purpose, while other pieces contain hidden compartments to provide extra storage. Find pieces that are both beautiful and functional. Here are some of our favorite functional living room furniture items:
Sleeper Sofas: These sofas provide ample seating space but can be easily transformed into a bed. For households that often have overnight guests, sleeper sofas can provide additional sleep areas without taking up extra space.
Ottomans: An ottoman is a cushioned piece of furniture that is used as additional seating or as a footrest. Some ottomans have storage functionality, allowing you to open or remove the lid and store items that you want to keep hidden from everyday view.
Benches: Like ottomans, benches are often used in a living room as an additional seating option. Many benches also have storage capabilities. There are a variety of storage benches available including those that hinge from the top for storage accessibility, those with drawers and cabinets, and those that include storage bins that can be easily tucked away.
Create a Cozy and Comfortable Space
Ideally, your living room should be welcoming, warm, and comfortable; your living room furniture should be too. Provide inviting seating areas for your guests by choosing cozy furniture with comfortable textures. With the right furniture, your living room can be a place that encourages relaxation, stimulates conversation, and provides entertainment. To create an ultra-cozy living room, consider adding the following living room furniture:
Sectional Sofas: These sofas are comfortable, functional and versatile. Unlike traditional sofas, sectionals are built with multiple pieces that can often be rearranged into several positions. Sectionals are available in a variety of upholstery options and shapes, and some even have additional functionality including power recline.
Reclining Furniture: Adding reclining furniture brings immediate comfort to a room. Reclining furniture allows you to find the most relaxing position, whether watching television or taking a quick nap. There are many different reclining furniture options to choose from including reclining sofas, chairs, sectionals, and loveseats.
Choose the Right Upholstery
When it comes to your sofa, chairs, and other seating areas, choosing the right fabric is essential. Some fabrics, like microfiber or polyester, are easier to clean while others, like velvet, are much more challenging.
Unfortunately, there's no such thing as a kid-proof couch or a pet-proof sofa. If you will be using your furniture frequently, choose a material that is highly durable and easy to clean. Furniture can be a significant expense and choosing the right upholstery will ensure that your living room furniture looks new for several years.
Elevate Your Space with Wall Décor
Since walls take up the most surface space within a room, adding the right living room wall décor can have a major impact on your design. From paint colors to gallery walls, there are many ways you can take advantage of your wall space. Check out these tips for maximizing your wall décor to elevate your living room design.
Choose the Right Color Palette
With so many wall colors available, there is a seemingly unlimited number of palette combinations you can choose for your living room. The main color of your room should complement the design style you have chosen, perfectly balance secondary and accent colors, and help unify the design of the entire room.
Paint a Living Room Accent Wall
Painting an accent wall is a great way to break up the monotony of a large room or to highlight an architectural feature. By adding a wall with a bold and contrasting color or pattern, you can add visual depth to your living room and create a focal point that balances the entire space.
Create a Living Room Gallery Wall
Gallery walls are curated collections of photographs and artwork that add personality and character to your living room. Each piece is arranged with a purpose to take advantage of available space, ensure that the most important pieces are at the forefront, and maintain visual balance. Curate pieces that are meaningful to you and hang them in a beautiful arrangement to create a personalized gallery that makes an impression.
Layer Your Living Room Lighting
Well-designed living rooms take advantage of multiple lighting sources to ensure that important areas of the room are properly lit. There are three main types of artificial lighting solutions that you should be aware of when designing a living room: ambient lighting, task lighting, and accent lighting.
Ambient Lighting: The main lighting in a room is considered ambient lighting. Ambient lighting sources illuminate the entire room and create a foundation that can be layered upon with other types of lighting. Ambient lighting can be achieved by installing fixtures such as chandeliers, pendants, ceiling-mounted lights, recessed lights, and more.
Task Lighting: This type of lighting provides additional illumination for specific tasks such as reading or doing homework. Floor lamps and table lamps are often used in a living room space to add focused lighting to a particular area and make it more comfortable to complete specific tasks.
Accent Lighting: Accent lighting is used to highlight objects like artwork and architectural features by focusing light directly on them. Lighting solutions in this category include display lights, track lights, LED rope lights, spotlights, and more.
Designing A Beautiful and Functional Living Room
By focusing on each major area of your living room, you can redefine both the design and purpose of your space. Start by selecting a design style you love and creating an optimal room layout.
Designing the perfect living room can be a challenge, but the reward is well worth the effort. Are you still having trouble designing your living room space? Our expert living room designers can help. Contact us to set up a design consultation and let's design a living room that is welcoming, functional, and on-trend.