10 Amazing Wall Décor Ideas That Will Bring Life to Your Living Room
Spruce up your living room walls with these trendy décor ideas.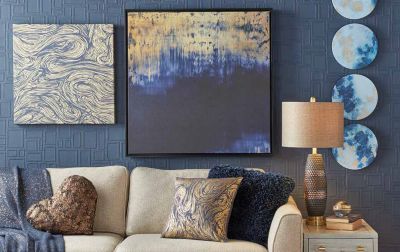 When we think of designing an awesome living room space, several elements come to mind like flooring, furniture, and storage. Even though walls occupy the most surface space in a living room, they are one of the last things many homeowners consider when designing their room.
Living room wall décor is critical to design success. Even in a fully furnished space, bare walls leave a room feeling incomplete and underwhelming. From living room wall colors to shelving and window accessories, there are many ways your wall décor can be enhanced to create a well-designed and visually balanced space. In this article, we will explore ten of our best living room wall décor tips to enhance your design and make your room stand out.
Set the Tone with the Perfect Living Room Colors
The color that you choose for your wall will set the tone for the entire room. Living room colors vary widely, including thousands of hues and blends. Before selecting a color to paint your walls, choose an overall living room color scheme. This will narrow down your color choices while setting a theme for the space. Here are a few popular living room color ideas and schemes to get you started:
Rich Traditional: If you're going for a traditional look, consider rich but soft wall colors like cream or beige. These colors can be accented with a variety of secondary colors including reds or blues for a calm and classic design.
Classic Neutrals: For a stylish contemporary design, consider a neutral but sophisticated wall color such as soft grey, pewter, mauve, or even a pale blue. Accent these neutral colors with bright and vibrant secondary colors or patterns that stand out and breathe life throughout the room.
Earthy and Stylish: The "earth tone" category includes several color families from browns and greens to oranges and reds. Earthy wall colors are especially suited for rooms that include many natural elements like wood and stone.
Whites and Off-Whites: White walls don't have to be lifeless. If designed correctly, they can deliver a bold appearance while creating a blank canvas for your wall décor. Use whites and off-whites as primary wall colors when you want to create a light and airy space that accentuates the room's accessories. With maximum contrast, white walls naturally pull your attention to secondary colors, finishes, tones, and textures.
Create a Focal Point with a Living Room Accent Wall
Accent walls are great living room features that break up the monotony of a single color in a large space. By featuring a living room accent wall, you can create a focal point that immediately demands the attention of anyone walking into the room.
There are many accent wall ideas for living rooms that can be implemented besides just using a solid paint color or wallpaper. From patterns to textures, the options are seemingly endless. Check out these unique accent wall ideas for inspiration:
Reclaimed Wood: Paneling a single wall with wood creates warmth and texture. Since each piece is subtly different, reclaimed wood tells a story and introduces natural elements to the space. Balanced with neutral wall colors, a reclaimed wood accent wall makes a huge statement while giving the room a unique and rustic appearance.
Mosaic Tile: Mosaic tile not only looks incredible in kitchens and bathrooms, but it can also be used to create a unique accent wall for your living room. Available in a variety of colors, patterns, and materials, these tiles can add dimension and personality to your room while being durable and super easy to clean.
Wall Mural: For a unique and one-of-a-kind accent wall, consider filling the space with an artistic mural. Adding a large mural introduces color, depth, and texture while showcasing artwork that is meaningful to you. Can't decide on a mural? Consider painting the wall in chalkboard paint so you (or your children) can create and showcase new artwork whenever you want.
Personalize Your Space with a Living Room Gallery Wall
You may consider a living room gallery wall instead of an accent wall. A gallery wall is a collection of paintings and photographs that are curated, framed in matching picture frames, and hung in an organized layout. Full of character and personality, gallery walls are not only great design ideas, but they also make great conversation pieces. Creating a living room gallery wall is simple and can be accomplished with just a few steps:
Curate Your Pieces: Find pieces that are interesting or meaningful. Depending on the look you are trying to achieve, your gallery wall can be comprised of prints, photographs, paintings, or a mix of all three. Try to find similarities in each piece even if they are significantly different from one another. By sticking to a general theme, you can create a cohesive gallery wall that is both personal and tasteful.
Arrange Your Collection: Consider doing a dry run before hanging your collection. This can be accomplished by arranging the pieces on a table or the floor. Alternatively, you can cut out paper mockups that have the same dimensions as the pieces in your collection and tape them to the wall. By doing so, you can ensure that your gallery is perfectly balanced and avoid drilling unnecessary holes in the wall.
Hang It Up: Once you know what pieces will be used in your gallery and how they will be arranged, hang them up! Use screws, nails, and picture hangers to safely secure each picture frame in place.
Add a Wall Clock for a Timeless Design
Although clocks were invented to serve the functional purpose of keeping time, they have become one of the most popular wall décor items for amazing living room design. From standard to unique or eclectic options, wall clocks are timeless items that are both practical and aesthetically pleasing.
Wall clocks are available in a variety of colors, shapes, sizes, and styles. Whether hung on their own or as part of a gallery wall, they can add a functional design element into your space and elevate your living room wall decoration.
Display Items with Living Room Shelves
Showcase meaningful items in your living room by incorporating built-in or standalone bookshelves and display cases. A great shelving unit can maximize your wall space, provide additional storage, and allow you to showcase important items.
While these furniture pieces are especially great for the bookworm, they can be used to display a variety of other items besides books like family photos and trophies. Add a bookshelf to accentuate your room's height and improve the overall appeal of the space.
Reflect Your Style with Living Room Mirrors
To create sophistication and elegance, consider adding mirrors to your living room walls. Mirrors aren't just for vanity, they add dimension to the space and have several unique properties like the ability to bend light, reflect colors, and more. Positioned correctly, mirrors can make a dark living room seem brighter and can make a small living room seem larger.
Mirrors are one of the most versatile living room wall décor items. Hang up a single large mirror to create a focal point in the room, or several small ones to add charm and reflect light in different directions.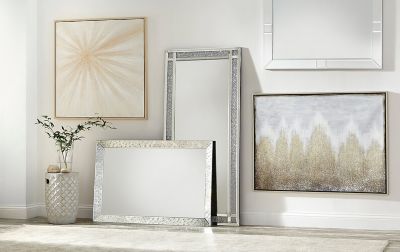 Draw Interest with Oversized Wall Art
Adding standalone large-scale wall art is another great way to amplify your wall décor while personalizing your space. Statement art can visually fill up a large wall without looking too busy while making a major impact on the overall aesthetic of your living room.
Large wall art pieces unify the entire space, providing an anchor for accent colors and creating an eye-catching focal point within the room. Since your artwork will occupy a significant portion of your wall, don't just settle on any piece. Choose a piece that truly speaks to you.
Wall art doesn't have to be expensive. If a large original piece is out of your price range, consider purchasing a large print or even creating artwork of your own.
Illuminate Your Area with Living Room Wall Sconces
Wall sconces are arguably the most flexible and functional lighting sources within a home. Unlike other types of lighting solutions, they can be used for accent lighting, task lighting, and in some cases, even general ambient lighting.
Accent Lighting: Placed directly on the wall, sconces are perfect for accenting other wall décor items such as art, shelving units, or gallery walls. Generally, they can be positioned to cast light up, down, or all-around to shift focus to a specific area.
Task Lighting: Swing-arm sconces are perfect for task lighting, as they can be easily repositioned to focus light on different areas of the room. Since they are mounted to the wall, they are great space savers and effective substitutes to floor lamps.
Ambient Lighting: Wall sconces work excellent as supplementary lighting, but in some circumstances, they can also be used as a room's general lighting source. Typically, this requires several sconces positioned effectively throughout the space.
Mount Your Television and Entertainment Devices
Mounting a television isn't just a great way to save space, but it also impacts the overall look and feel of the room. When mounted on a feature wall, televisions become integrated with surrounding décor, creating a seamless design.
Use floating shelves and wall-mounted storage to hold or hide entertainment components like DVD players, video game systems, cable boxes, remote controls, and more.
Finally, find creative ways to hide any unsightly cords and wires. Cords can be routed behind the wall to completely remove them from view or hidden with a cord concealer kit to make their appearance less obvious.
Control Natural Lighting with Living Room Curtains & Drapes
Window treatments are generally used for privacy and blocking out sunlight, but they are also essential to a well-designed living room. Choosing the right window treatments can give your space an entirely new look, while the wrong window solutions can detract from your room's design. There are several different types of living room window treatments - each available in a variety of materials to maximize your options and fit your design style.
Drapes and Curtains: These window accessories are made of fabric and are designed to run the full length of your window or wall. Unlike other treatments, these fabric panels hang from a rod that is installed above the window. Curtains and drapes are available in several materials including cotton, silk, velvet, and linen, and in a wide variety of colors, patterns, and designs.
Blinds: Blinds are accessories that fit inside your window frame. Designed with vertical or horizontal slats, they can be opened or closed to allow the preferred amount of sunlight into the room. Blinds can be found in several materials from plastic and vinyl to woven wood and bamboo.
Shades: Like blinds, shades are designed to fit inside a window frame. They are made with a solid sheet of fabric that can be raised and lowered or rolled up to let in additional light. Shades can be found in many styles, like roman and pleated, and can be made with a variety of fabrics from sheer linens to bamboo.
Living room walls don't have to be bland and boring. Use these wall décor tips to add character, personality and vertical dimension to your living space. Don't have the budget to design your walls the way you want? Visit the Clearance Center and Outlet at Art Van to find amazing discounted wall décor and furniture items!