Everything You Need to Know About Building A Fabulous She Shed
How to build, design, and decorate the she-shed of your dreams.
Imagine a place nestled in nature and surrounded by peaceful silence with your favorite personal belongings within an arm's reach. A quiet hideaway where you can focus, unwind and relax. Best of all, this dreamy place isn't a thousand miles away on a deserted island, it's right in your backyard.
Backyard sheds are no longer just for storing gardening tools. She sheds have replaced the old boring tool shed, providing women with a perfect paradise away from the house. There are no rules to truly define what a she shed is. It's a backyard retreat, and outside of that, it can be anything you dream it to be. From home offices to craft cabins and yoga retreats, the potential of these spaces is endless.
Although building and furnishing a she shed can seem like an intimidating challenge, it doesn't have to be. With the right guidance, anyone can create the relaxing backyard resort they've been dreaming of.
She Shed Ideas
She sheds can serve a multitude of purposes. Before building your shed, determine what your retreat will be used for. Depending on its purpose, you may need a certain amount of space, a specific floor plan, or a particular combination of furniture items. Here are some of our favorite and most creative she shed ideas:
Opulent Office: Convert your she shed into a home office with a desk and office chair for a quiet place to focus, study, or build your home business.
Adorable Art Studio: Surround yourself with items that inspire you in a personalized artist's sanctuary. A quiet and inspirational place to create artwork with no disruption.
Gorgeous Guest Room: Add a bedroom set and cozy bedding to create an extra bedroom or provide your guests with a private paradise.
Creative Craft Studio: From jewelry studios to woodcraft shops, a she shed is the perfect place to set up the ultimate creative area. Store supplies and include décor that pushes your creativity to its limits.
Euphoric Exercise Room: Whether you need a relaxing place to do yoga or enough space to stretch out your limbs, a she shed allows you to enjoy exercise in a room that motivates and stimulates you to reach your fitness goals.
Relaxing Retreat: Design a space that allows you to get away and relax. Recreate your favorite hotel room in your she shed to build a home away from home.
Lavish Literature Loft: Transform your shed into a reader's refuge by adding a bookshelf, recliner, and floor lamp. Create a quiet and relaxing environment to digest your favorite literature without interruption.
She Shed Cost
The cost of building a she shed can vary tremendously. Repurposing an existing shed may only cost a few hundred dollars while building a new structure from scratch can amount to tens of thousands. There are several cost factors you should be aware of when deciding on a budget for your she shed.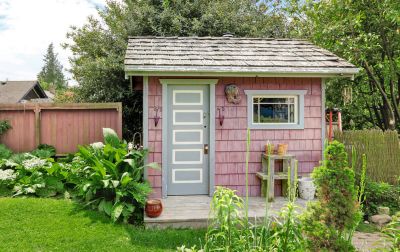 Building Your She Shed
Typically, the most expensive she shed component is the structure itself. Your budget will be heavily influenced by what type of structure you decide to use and your approach to building it. In general, there are three different options you can choose from when building your exterior structure.
Repurpose: If you already have an existing shed or detached structure, you're in luck. Repurposing a structure is usually the most inexpensive way to build a backyard she shed with the least amount of effort. These structures already have a foundation, erected walls, and a roof. In many cases, adding a layer of paint or new siding can quickly upgrade the look of an existing shed.
She Shed Kits: For those who don't already have a shed in place, a shed kit can be purchased and assembled over a few days. The benefit of using a kit is that they contain all exterior parts of the structure including walls, floors, windows, doors, and a roof. The interior is a blank slate that you can customize any way you see fit. The drawback of purchasing a she shed kit is that the exterior design is predetermined. Making changes to the original exterior will increase your overall material and labor costs.
DIY Custom Sheds: The most flexible option is to build your she shed from scratch. Although it is usually the most expensive alternative, building a custom she shed allows you to maximize creativity and build a one-of-a-kind space. Modern DIY spaces can be built using standard construction materials. Use repurposed materials to create a unique and rustic she shed.
Home Comforts
Depending on which region you live in, you may need to add certain home comforts to create a cozy and relaxing space.
In milder environments, for example, a few open windows and doors may provide the perfect interior climate. For other regions, heating or cooling may be necessary to create a comfortable area. Adding heaters, fans or air conditioners will require electrical power, meaning you might need help from a licensed electrician. Also, your local city government will likely require you to have the proper permits before running any electrical wiring.
She sheds with a bathroom, small kitchen, or sink require plumbing, which can add to the overall cost of your new project. Like electrical power, new plumbing will also likely require city permits.
While your she shed can include any of the comforts of home from electricity to plumbing and beyond, they will come at a significant cost and should be factored in when deciding on your budget.
Economy vs. Luxury
The materials you use to build your space and the furnishings you choose can make or break your she shed budget. There are a variety of different flooring, furnishing, and décor items that you can add to your shed across a wide range of prices.
Although she sheds are typically small spaces, costs can add up quickly. When selecting finishes and furnishings, choose items that complement the design of your she shed while staying within your dedicated budget. The best she sheds aren't always the most expensive, so you can build an amazing space and still respect your wallet.
She Shed Interiors
Your she shed may require different furniture combinations depending upon its purpose. While an inviting guest room may include a full bedroom set, a she shed craft room may just need a table and ample storage. No matter what type of she shed you are furnishing, there are a few factors you should keep in mind.
Consider the Limited Space
Before buying furniture, examine the size of your she shed. Small areas require a smart approach to furnishing since large items will quickly occupy any available space. Consider these small and smart alternatives to traditional furniture:
Instead of an office desk, consider a sofa table. These tables are much smaller, provide ample workspace, and are flexible enough to fit behind a sofa or tuck against a wall.
Instead of a bed, consider a daybed. Comfortable and beautiful, daybeds provide a place to rest and relax without taking up the space of a normal-sized bed frame and mattress.
Instead of a full sofa, consider a loveseat. While loveseats provide less seating than a sofa, they can help preserve valuable square footage within your space.
Use Multifunctional Furniture
A well-furnished she shed requires a minimalist approach, but that doesn't mean you need to minimize its purpose. Create more room in your shed by adding furniture that serves multiple functions without taking up additional space. When it comes to multifunctional furniture, consider these items for a spacious but purposeful she shed:
Futons & Sleeper Sofas: Purchase a futon if you need to provide both seating and sleeping areas in your shed. These items can easily transform from a couch to a bed, serving both purposes without cluttering the space. A loveseat sleeper, for instance, takes up little territory and can fold out into a twin-sized or full-sized bed.
Ottomans: While ottomans are commonly used as a footrest, they can double up as additional seating. Since they are small pieces, they are easier to tuck away than a chair. Furthermore, some ottomans allow you to remove the top and store items inside.
Kitchen Carts: These carts are made to provide additional preparation space in a kitchen, but they can serve a variety of purposes in your she-shed as well. Their durable countertops can provide extra workspace for arts and crafts, while drawers can be used to store items when they are not in use. This flexible piece of furniture includes casters, so it can be easily rolled into a corner or moved throughout the space when it is needed.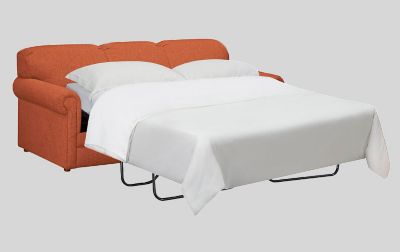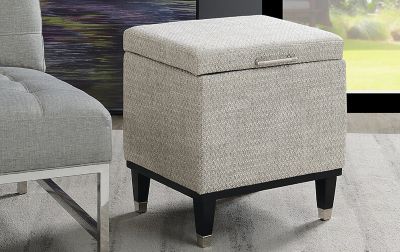 Add More Storage Than Needed
In a small space like a she shed; creative storage is necessary. Determine how much storage is required to keep your space decluttered and increase it by 25%. At some point, you might need more storage space, so do yourself a favor and add it to your design in the beginning stages.
If you only need minimal storage, a small nightstand can be a clever addition to your space. With one or more drawers, nightstands offer considerable storage for your items, while taking up very little space and enhancing the overall design of your she-shed.
Need even more storage? Consider a small cabinet or chest. These items come in a variety of sizes, colors, and designs to match the style and storage needs of your she shed. With several drawers and accessible spaces, the right cabinet can give you all the additional storage space you require.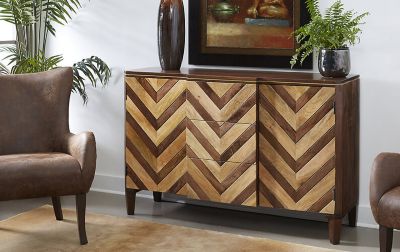 Designing the Perfect She Shed
Creating the perfect she shed may come with its challenges, but the result is worth it. No matter what purpose your shed needs to serve, your paradise can be created in as little as a few weekends. Be smart about how you use your space and decorate your shed with items that create the environment you need to relax, focus, or achieve your specific purpose.
Need help designing your she shed interior? Schedule a design appointment with one of our experts and let's create your dream space today!