The Best Small Bedroom Ideas to Inspire Great Design
Make your small bedroom feel grand with these clever but simple ideas.
While small bedroom spaces can be charming and intimate, you may find yourself at a loss when it comes to maximizing your overall real estate. There's nothing wrong with smaller spaces. In fact, using some strategy and imagination, small can be cozy and comfortable. All that's needed is the right furniture and décor to open up a small room that otherwise might seem cluttered and cramped.
Depending on how you'd like your small bedroom design to go, there are a host of options at your disposal to give you the comfort you'll look forward to after a long day. From décor to storage, this guide will provide several thoughtful small bedroom ideas and tips to create an amazing design.
Small Bedroom Bed Ideas
The core element of any bedroom is the bed, but with small bedroom spaces, you'll need a bit of creativity to get the look and level of comfort you desire. Queen and king-sized beds are popular choices for bedrooms in general, but they may not make the most sense for a small bedroom. Instead, consider one of these bed alternatives:
Less Frame, More Space: Full bed frames (with a headboard and footboard) can take up quite a bit of space. In a small bedroom, every inch counts. Swap the full bed frame for a bed with a slim headboard. Headboards can be purchased or even built as a weekend DIY project. They are available in many different styles, making it easy to maximize the layout of your small bedroom.
Add a Daybed: These are an excellent alternative for traditional beds since they can be used as both a seating and sleeping solution. If you'll be hosting guests, consider a daybed with a trundle. Trundles are a great storage addition that doubles as another sleeping surface for overnight visitors or for your children and their friends during sleepovers.
Use a Futon: These items function similarly to daybeds, but instead of a stationary piece, futons can lay completely flat as a bed surface or be stood upright to resemble a sofa. Studios, lofts, and other areas that do not have a lot of wall separation are perfect candidates for futons as they can meet your entertainment and resting needs with ease.
Create a Loft: If your bedroom has enough height, a bed loft can solve many of your space limitations. Some bed lofts include a workstation underneath, allowing you to consolidate your space without sacrifice. It's win-win for your productivity and sleep.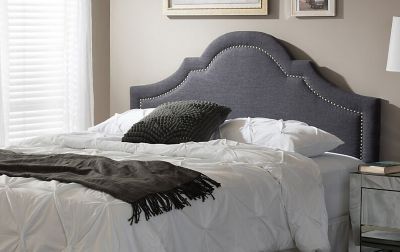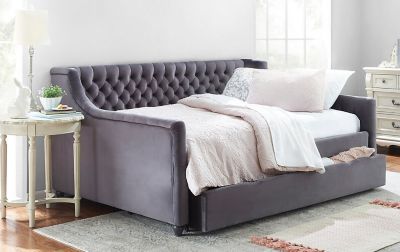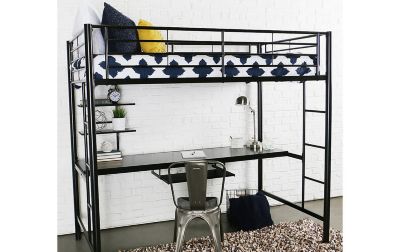 Small Bedroom Furniture
While your bed may be the star of the "bedroom show," dressers, mirrors, chests, and nightstands bring it all together. You can make the most of your small bedroom furniture by placing some of these items strategically. Here are a few tips and tricks to consider before purchasing furniture for your space:
Put Function First: In a small space, the function of the furniture is priority. Style is important but try to keep it reasonable. When purchasing furniture, it is important to consider the impact of function and purpose for each item within the space. It's good practice to purchase furniture that allows you to enjoy your room similarly to a larger area.
Consider Symmetry: A good trick for making your space seem larger is to introduce symmetry. Symmetrical designs appeal to our natural draw toward order. Your attention will be focused less on the room size and more on the contents. This makes it easier to understand the layout and design of the space. A small room feels more balanced and familiar when using symmetry.
Utilize the Entire Space: There's more to consider than floor space when designing a room. In a small bedroom, every surface has the potential to elevate both the room's design and its functionality. Walls, window nooks, closets, under-the-bed, and the back of the door can all be used as additional surfaces for making your small room more functional, spacious, and comfortable.
With furniture combinations, you won't need to have everything a typical bedroom may contain. Having less bedroom furniture will also make your space look bigger overall. Try out some of these furniture combinations to maximize the space throughout your room: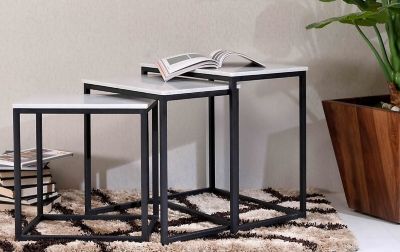 These options are also great organization solutions for studios or small apartments without a closet. They pair well with portable closets and other modular storage in case you decide to refresh your space by changing things around.
Small Bedroom Lighting
You can't fully enjoy even the best bed in the world if your bedroom is too bright or too dark. It's important that your bedroom speaks to you through wall art and accent pieces. That includes the right lighting as this is essential to highlighting these items. There are plenty of small bedroom lighting ideas that can elevate and illuminate your space. Here are a few recommendations: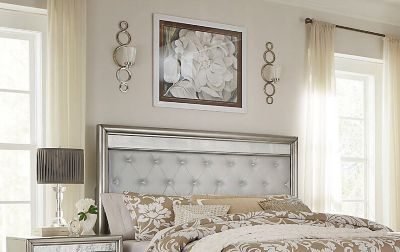 Floor lighting: This type of lighting provides great ambiance and feelings of relaxation. Floor lamps also have a smaller footprint when it comes to space, so it's a good idea to have one when you're in need of more light.
Wall-mounted lighting: These lights are great for the early morning or late nights when you're the most sensitive to brighter lights. They provide just enough to see, but not too much and go great above dressers, next to mirrors, or adjacent to your bed.
Ceiling lighting: These lighting solutions give a balanced amount of light across your bedroom. It's a great setup for smaller bedroom areas and frees up more space for an additional chest or dresser. Bedroom chandeliers, for instance, provide ample lighting while providing a focal point that makes smaller bedrooms look fuller.
Small Bedroom Storage Ideas
Creative storage for a small space relies on the ability to do more with less. By implementing clever storage ideas, you can make it easy to keep your bedroom clean and organized. Here are a few of our favorite bedroom storage solutions:
Storage beds: These are perfect options for small bedroom storage with a splash of flair. They also come in a wide variety of styles that can fit your tastes with ease. Choose from upholstered headboards, storage headboards, and storage drawers at the foot or sides of the frame.
Storage Bench: Adding a bench to the foot of your bed is a clever way to introduce both seating and storage. Some benches include baskets that can be pulled out to access additional storage, while others are hinged from the top.
Under-Bed Storage: Use under-bed storage drawers and boxes for clothing, shoes, extra blankets, and other items that can easily clutter a small space. These items utilize valuable space under the bed that is often left empty.
Smart Closets: Small closets can be redesigned to take advantage of unused space. Organize your closet with cubbies, racks, shelves, and drawers to make the most of your bedroom and to create an effective storage solution.
Armoires: Although armoires can take up some square footage in your small space, they allow you to use height to your advantage. Armoires provide ample storage for all your clothing, especially if you have limited or no closet space. In a small bedroom, look for armoires that are tall and slender, as opposed to short and wide, for the most effective use of space.
Your small bedroom design largely relies on what you've got to work with. For studios and small apartments with open floor plans and few walls, daybeds and futons grant versatility so you can forego traditional bedroom furniture. Turning your futon or daybed into a comfortable seating area is easy and fits great in a small space.
For small bedroom spaces in apartments or condos, you'll want to think about storage beds with storage headboards that provide plenty of space for stowing away your underwear, pajamas and such. Pairing those with pieces like dressers, chests, storage closets, nightstands, and dresser-mirror combos is a great way to maximize your space and to make your bedroom look bigger overall.
There are plenty of small bedroom ideas that lend themselves to your specific tastes. Try them all out and see which one speaks to you. With Art Van, you can find bedroom furniture that fits in any space, in any place.