22 Small Living Room Ideas to Design a Space That Doesn't Feel Cramped
Give your small living room a big design with these expert tips and ideas.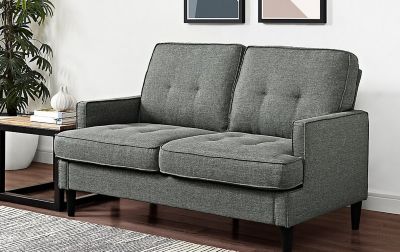 Flip through any home décor magazine and you will find pages full of awesomely designed living rooms with 20-foot ceilings and walls that seem to extend endlessly. While these images may be beautiful, the design concepts they introduce may not translate well in a small living room.
For some of us, small living rooms are a reality. While a small living area can be cozy and intimate, it can become almost too cozy once several pieces of furniture have been added. Your living space is just that; a place to live some of the best parts of life. Regardless of size, your living room should provide comfort, relaxation, and a place where the whole family can socialize.
Negotiating space in a 750-square-foot house or apartment can turn into a challenge. Fortunately, there are many things you can do to maximize the space, design, and enjoyment of your small room. In the following design guide, we'll provide several small living room ideas to make your living room feel larger, brighter, and more welcoming – even if space is limited.
Small Living Room Furniture Ideas
Adding the right furniture can make your small space seem spacious and accommodating. While seating areas and table surfaces are necessary, improper furniture choices can cause your room to seem even smaller than it is. Check out these furniture ideas for small rooms as you decide which pieces you should add.
Sectional Sofas
The sectional sofa is usually where your eyes go when you enter a room, so you want it to look great without guzzling down the entire space.
Consider the design of the traditional sectional sofa. Plush sectionals with multiple pieces, oversized cushions, and bulky padded arms may be comfortable, but are not the best choice for your small living room. Inspiration from standard living rooms can be helpful, but they also must be adapted to smaller spaces.
Opt for a sectional sofa that has a tight silhouette to save some space. When it comes to furnishing a small living room, think lean. A 3-piece sectional is probably your best bet, even in a limited area. For only having three pieces, it provides plenty of seating without dominating the room. For maximum flexibility, choose a reversible sectional that allows you to customize its configuration.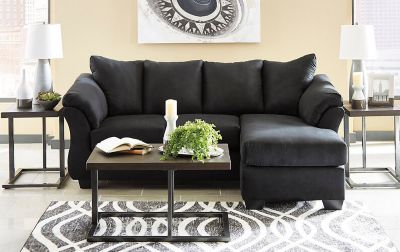 Loveseats and Settees
If the sectional is not your style, there are several other small living room furniture alternatives including loveseats, cuddlers, and settees. Loveseats are compact sofas that measure somewhere around 50 inches in length – the perfect size for even the smallest of living spaces. They come in countless styles and are available in a variety of upholstery fabric options.
If you don't want to commit to a loveseat, a settee is a great option for furnishing a small living room. It's a compact version of a loveseat. Typically designed to sit three or four, settees are an ideal solution for a tight space.
Finding small living room furniture ideas that work can be daunting. Decorating a 12x12 room is tricky, so saving space is imperative. Enter the cuddler, also called a one-and-a-half seater. This in-between solution is designed to seat two people very snugly, or just one person with a lot of room to sprawl.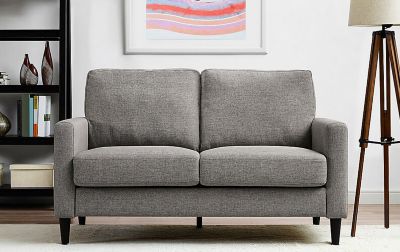 Chairs & Alternative Seating
The reclining chair is not to be overlooked, either. A perfect living room idea, it provides the comfort of a couch, with much less space consumption. That, and it allows you to quickly recline and lay flat. With a footrest that tucks out of sight when not in use, recliners are an excellent choice for saving space.
Ottomans also work great in a small living space. They can function as a footrest when relaxing but can double up as additional seating when required. Some ottomans can be used for storage, which comes in handy when keeping your small space clean and clutter-free.
A wall-saver recliner is another a small-space solution. When reclining is engaged and the chair is moving forward, its back actually moves away from the wall. A wall-saving recliner needs only 4 inches of clearance.
Storage benches also make excellent choices as small living room furniture. Like ottomans, they can provide additional seating and storage without cramping the space. Benches are available in many styles from wooden benches with basket storage to tufted benches with hinged seats that allow for easy access to storage compartments.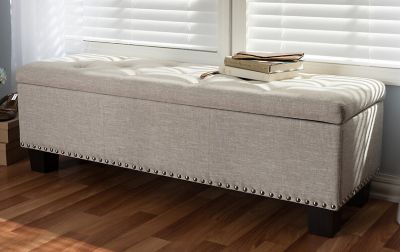 Tables
Coffee tables are often the centerpiece of a living room, and they are both aesthetically pleasing and useful. However, some coffee tables are too large for a small living room space. Select a coffee table that is meant to function within a small area like a nested coffee table. With two tables nested inside one another, it can be extended when additional room is needed or consolidated to save space.
As an alternative, consider purchasing one or several end tables. These tables are much smaller and can be easily moved around. Purchase two or more of the same table for a uniform look or mix several different tables for a more eclectic style.
Need more table space? Consider adding a sofa table to your small living room. Sofa and console tables are narrow and can easily fit behind a couch or up against the wall. They are long enough to hold several items, tall enough to double up as a desk, and can even include drawers for additional storage space.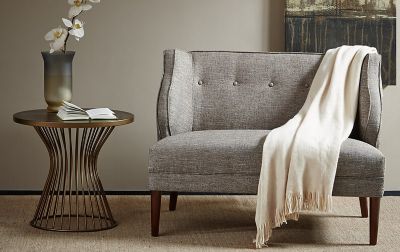 Small Living Room Décor Ideas
The impact that accent pieces can have on a small living room is bigger than you might guess. The right décor can play a pivotal role in making your space-challenged room feel much larger. Here are a few ways to use small living room décor to elevate the design of your compact space:
Get Creative with Area Rugs. Area rugs not only look great, but they can help define different areas of the room. Stack two area rugs atop one another for a unique layered look. Position the top rug so it is at a slight angle, exposing both rugs' patterns.
Take Advantage of Natural Light. Avoid using blackout curtains and opt for window coverings that take advantage of natural light such as sheer curtains, roman shades, or blinds that can be easily opened to let natural light pour in.
Use Wall Sconces to Save Space. Instead of using floor or table lamps in your small living room, consider adding wall sconces. These lighting sources are wall-mounted, saving valuable floor space while providing enough light to illuminate the room.
Add a Bookshelf to Highlight Height. Shift attention to the room's height instead of its size by adding a tall bookshelf. Not only does this allow you to display a variety of items, but it also accentuates the height of the room and makes the space seem larger than it is.
Use Mirrors to Reflect Light. Add mirrors to your small space to reflect light and brighten up the room. Lean a floor mirror against the wall to make a powerful impression or hang a mirror across from a window to enhance the effect of natural light throughout the space.
Small Living Room Paint Colors & Palette Ideas
The colors you choose for your wall paint and other accents can very much make your small living room feel larger. It's almost as important as the type of furniture you use.
Small spaces do best with neutral, airy tones – think off-white, cream, pewter, and linen. The wall color should complement the furniture or wall art, letting them take center stage.
It's fun to play with color when designing your look, and the results bring a vibrancy to your space. Here are a few things to consider when selecting small living room paint colors and accents:
Paint a wall off-white with cream trim. Different shades of the same color provide dimension and depth while making a small space seem airy and light.
Group accent pieces together based on color. Hang three or four framed photos or pieces of artwork that maintain a common tone. The collection shifts the attention away from the small room size. This same principle applies to throw pillows.
Paint a single wall in a contrasting color to add visual interest and draw the eye to a focal point. Accent walls are a great way to bring color into a small space without making the room too dark or heavy.
Introduce bold colors through accent décor like artwork, throw pillows, and window treatments. This will make the room pop while accenting light and neutral wall colors.
Use natural elements like wood and stone to give your small space character and personality. Hang plants to bring the outdoors inside without taking up additional space.
Small Living Room Layout
A small living room shouldn't be limited in its purpose. You can do big things in small spaces, including hosting friends, entertaining family, or just simply relaxing. It's all about maximizing your space with a layout that provides enough comfortable seating and walking space.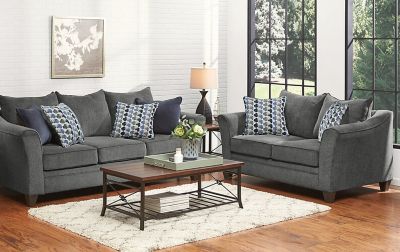 Host with Confidence
Bonding with friends and family is important and completely possible, even if your living room space is smaller than usual. Implement these small living room hacks and feel confident when hosting guests at your place:
Move your furniture to the perimeter of the room. This ensures that seating is still available but keeps the center of the room open and spacious.
Go sofa-less. Consider arranging three armchairs along with an ottoman topped with a tray. This creates four potential seating options and a serving surface. A pouf or stool can add more seating and takes up very little space.
Small Space, Big Entertainment
Even small living rooms can provide big entertainment. You don't need a theater-sized room to satisfy the entertainment needs of everyone within the household. With these small living room ideas, you can create the perfect place to watch a movie, play video games, or read your favorite book.
Mount Everything. If it can be mounted on a wall, do it. Mount the TV safely with a television mounting kit. Use floating shelves for things you want to display, or a floating TV stand to store devices, movies, and accessories that you want to keep out of view. Mounting keeps objects off surfaces and frees up coveted space.
Find Creative Storage Solutions. Create storage areas to keep the area clean and clutter-free. For example, place three or four wooden storage boxes in key areas of the space to hold items like remotes, phones, or tablets.
Set the Mood with Lighting. Layer your lighting with both accent and task lights. Install dimmers on overhead light fixtures. This allows you to quickly recreate the feel of a theater while having the proper lighting for tasks like reading, when necessary.
Rest & Relaxation
Limited space shouldn't limit your ability to rest and relax within your living space. Implement the following small space ideas to create a warm and comfortable room that encourages relaxation after a long or demanding day. Here are a few tips for creating the most relaxing space possible:
Choose Soft Materials. Introduce soft materials into your space. A comfortable couch with soft fabric, a thick and warm area rug, and a few plush accent pillows can create a calm and tranquil space in any sized living room.
Use Calming Candles. A burning fireplace creates warmth and promotes calmness even after the most stressful day, but a fireplace may not be the case for your living room. You can recreate the feeling by placing candles throughout the room. The soft glow and aroma of a burning candle create a sense of ease, even in a small space, while adding a subtle design element.
Keep a Throw Blanket Nearby. To make things super comfortable, keep a warm throw blanket in your space that can be easily accessed when you're ready to stretch out and unwind. A throw with an interesting pattern or bold design can be draped over the sofa when not in use to add to the room's overall aesthetic.
Design the Ideal Small Living Room
Your small living room has a lot more potential than you may think. Consider the type of furniture that works for your lifestyle, from a streamlined sectional to a perfectly comfy chair. Accent your space with clever items and place a premium on color choice.
These are just a few things to consider when making a small space feel much larger. Still having trouble? Our expert living room designers can help. Contact us to set up a design consultation. From there, we can collaborate with you to come up with a small living room design that is welcoming and functional.