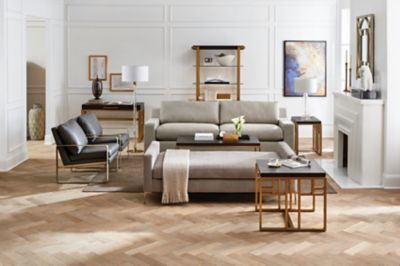 MODERN
The clean designs and simple silhouettes of Modern Style bring a feeling of Zen to your home for the ultimate escape from the busy world. Calm and collected, the "less is more" attitude allows every item in the room to shine—especially you.
Modern mixes best with Mid-Century and Urban.
Nigel Barker offers a fresh take on Modern styling with his new NB2 Collection. Sleek silhouettes and classic shapes will help make the most of your space without giving up comfort and elegance. A mixture of textures and leather add even more interest.
1 Items In This Collection
Products
Product Description
The NB2 Daybed Chaise by Nigel Barker offers a classic shape with strong modern styling. It is supported by metal legs in a brushed brass finish and is upholstered a neutral soft, grey fabric. The Day... See more
Dimensions:
Length:
75
" Height:
25
" Depth:
37
"